Article successfully added.
* incl. VAT / plus shipping costsDepending on the country of delivery, the VAT at checkout may vary.
Ready to ship today,
delivery time** appr. 1-3 workdays
1-LP 10inch vinyl, 12 tracks. Total playing time approx. 26 min. On the occasion of her...
more
Wanda Jackson: Honey Bop (LP, 10inch, 45rpm)
1-LP 10inch vinyl, 12 tracks. Total playing time approx. 26 min.
On the occasion of her 85th birthday on October 20, 2022, Bear Family Records® honors Wanda Jackson, the Queen of Rockabilly with a fine 10inch vinyl LP.
A round dozen of unique Rockabilly classics fill the grooves of this high-quality record in a limited edition.
In addition to (Let's Have A) Party, tracks include Baby Loves Him, Mean Mean Man, Cool Love and Savin' My Love and her re-makes of Fujiyama Mama and Hot Dog! That Made Him Mad. 
Liner notes by Bill Dahl.
What a party!
All hail the rockabilly queen! Wanda Jackson staked her royal reputation as an unbridled rocker on the killer sides she waxed for
Capitol Records
during the second half of the 1950s. 
A dozen of those classics constitute this Bear
Family
Records® 10-inch LP, every one permeated with the sexy swagger and sensual sway that became her trademark after Elvis helped convince her to switch her stylistic focus from country to rock and roll. 
Wanda set her own Baby Loves Him, Mean Mean Man, Cool Love, and Savin' My Love afire, made the swinging oldies Fujiyama Mama and Hot Dog! That Made Him Mad her own, and transformed the rip-roaring (Let's Have A) Party into a national hit (even Elvis and
The Collins Kids
couldn't do that). 
Wanda's studio bands included guitar demigods
Joe Maphis
and
Roy Clark
as well as her own touring combo, The Poe Kats featuring piano pounder 'Big'
Al Downing
. Jackson's rip-roaring rockabilly side is on full glorious display on these 12 classic tracks. Talk about a party! 
Video von Wanda Jackson - Honey Bop (LP, 10inch, 45rpm)
Article properties:

Wanda Jackson: Honey Bop (LP, 10inch, 45rpm)
Album titlle:

Honey Bop (LP, 10inch, 45rpm)

Genre

Rock'n'Roll

Preiscode

BAF

Record Grading

Mint (M)

Sleeve Grading

Mint (M)

Geschwindigkeit

45 U/min

Vinyl record size

LP (10 inch)

Artikelart

LP (10 inch)

EAN:

4000127140296

weight in Kg

0.3
Wanda Jackson If not for her good friend Elvis Presley's sage advice, Wanda Jackson might...
more
"Wanda Jackson"
Wanda Jackson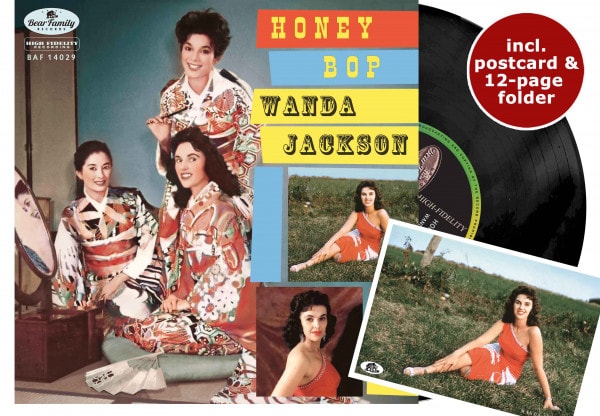 If not for her good friend Elvis Presley's sage advice, Wanda Jackson might have stuck with good old-fashioned country music. After all, she'd already scored a sizable hit for Decca in 1954 with You Can't Have My Love, an appealing traditional country duet with Billy Gray. But The Hillbilly Cat intuitively understood that a new sound was brewing across the South, one he was driving teenage girls crazy with. As he toured with Wanda in 1955, Elvis created bedlam everywhere they played.
Between gigs, he advised Wanda to join him aboard the rockabilly bandwagon, reasoning that her rip-roaring pipes were tailor-made for the incendiary style. Much as Elvis ascended to the throne as the king of rockabilly like a rocket in flight, Wanda would eventually reign as the idiom's queen. Unlike many of her peers, Wanda didn't have to deal with disapproval from her parents—they actively encouraged her. Her father, Tom Jackson, was a guitarist and fiddler, while her mother Nellie was just as integral to her career. "The fact that I'm an only child helped a lot," said Wanda. "They were able to concentrate all of their attention and efforts on me. My career was really a family affair. My mother made my clothes. I designed them, she made them. She was a professional seamstress, so she made almost everything I wore, on and offstage. She could fit me like a glove.

And then my dad gave up his job so he could travel with me, take care of me on the road. So my folks sacrificed their time together, any social life they could have had. They just invested all of their energies in me." Born October 20, 1937 in Maud, Oklahoma, Wanda was five years old when she and her folks moved to California, first settling in Los Angeles and then outside of Bakersfield. Tom placed a guitar in his daughter's hands when she was only six. Western swing was the thing on the West Coast, and the Jacksons happily soaked it up. "They loved to dance. They were beautiful dancers," said Wanda. "In those days, people didn't get babysitters. If a couple did something, then the children were included. And in these dance halls in California, I remember the dance area was one place, and then they'd have like the beer garden in the other. My mother is a teetotaler, and some of their friends would have drinks. But she'd stay with me. They'd go have their drinks and then come back. "They said I'd stand right in front of the bandstand all night long with my head back, watching and listening from the age of six. People will say, 'What are you gonna be when you grow up?' And I'd always say, 'A girl singer!' Maybe I thought I had the choice of being the girl or the guy, I don't know. The girls looked so pretty in the flashy clothes." Rose Maddox made a strong impression. "She was so feisty, and their music was so good. I sang some of her songs in the early days," said Wanda. "I liked the girl yodelers.

I liked the Bob Wills band. Just about every Western swing band had at least one girl singer, and most of them were yodelers. That was kind of the thing: if you were gonna be in a band, you had to yodel. So I learned real early how to yodel." The Jacksons moved back to The Sooner State when Wanda was nine, settling this time in Oklahoma City. An impromptu audition at KLPR radio led to her own radio program when Wanda was 14. "Just 15 minutes, just me and my guitar," she said. "Every day, after school, I'd go up to the station and do my show. Then my parents would pick me up and go home. Then I'd do my homework." One day Oklahoma City's resident country music star Hank Thompson called her at the station. "He heard my show on the radio, and he said he was just impressed with my style and my singing," she said. "I just about fainted right there on the spot. He said, 'This is Hank Thompson!' And he invited me to sing with him and The Brazos Valley Boys at The Trianon that Saturday night.

I was probably about 14. I remember saying, 'Oh, I'd love to, Mr. Thompson, but I'll have to ask my mother!' But they took me down, and that was the beginning of a great friendship and a relationship with Hank Thompson. He became my mentor, and helped me get my first and second record deals." Before long, Wanda was a regular member of Hank's troupe. But even his imprimatur couldn't convince Capitol Records A&R man Ken Nelson to sign her to the label Thompson had scored so many smashes for—Nelson thought her too young. So Hank brought her to Decca Records, where producer Paul Cohen was more receptive. At the end of Wanda's very first Decca date in March of '54 in Hollywood, Thompson cajoled her into cutting You Can't Have My Love as a duet with his bandleader Gray. "I was very upset. I knew in my mind that I didn't want to be connected with a guy. I didn't want a team," said Wanda. "I didn't even want to record it, but they kind of pressured me into it. I was nearly in tears when I was singing it, I was so mad."
The song became a national hit, which dulled the sting. Jackson subsequently journeyed to Nashville in March of 1955 for a Decca session; while she was in town she made her debut on 'The Grand Ole Opry.' What should have been an early career highlight turned out to be anything but...

Auszug/Excerpt: Wanda Jackson
Read more at: https://www.bear-family.com/jackson-wanda/?c=128600
Copyright© Bear Family Records®
Read, write and discuss reviews...
more
Customer evaluation for "Honey Bop (LP, 10inch, 45rpm)"
From:
Dusty Grooves
On:
15 Sep 2023
The guitar is great – as raw and ragged as the vocals!
A really great collection that brings together some of the most hard-rocking tracks from Wanda Jackson's early years on Capitol Records – a time when the singer became an instant legend for her hard-edged way of putting over a tune! At a time when the early rock scene was dominated by male singers, Jackson cut a very striking figure as one of the few who could weave together elements of hillbilly and R&B like the best young singers at Sun Records – captured here with a rawness that's very different than most of the mainstream productions that Capitol were putting down for the pop market! The guitar is great – as raw and ragged as the vocals
From:
Bo Berglind
On:
9 Nov 2022
When you play this record we recommend you buckle your seatbelt because this is where it gets off.
The Bear League continues with its fine ten-inch series, and this time it's the turn of one of the best singers of the 1950s. She could sing rock as well as languorous ballads and the lady in question is Wanda Jackson from Maud, Oklahoma. On this album we get a sample of what gave Wanda the epithet Queen and Rock 'n' Roll. When you play this record we recommend you buckle your seatbelt because this is where it gets off. Not only did she have a wonderful voice she was also a delight to behold for "sore eyes". The recordings on this album cover the years 1956-60 and were recorded at the Capitol Tower, Hollywood and Bradley Film & Record Studio, Nashville and the musicians don't break a sweat, or how about Joe Maphis, Buck Owens, Merrill Moore, Skeets McDonald, Vernon Sandusky and Big Al Dow- ning to name a few. Picking a favourite is not for everyone
is equally high class, here in Sweden we got an EP around 1960 with "LongTallSally", "Party", "MeanMean Man" and "Our Song", it was soon smashed and the gateway to Wanda's music world. The album is a tribute to rock singer Wanda Jackson and the booklet has many nice and sweet pictures with good text by Bill Dahl. If you have no previous Wanda experience, we recommend a purchase
From:
Stefan
On:
19 Oct 2022
Write an evaluation
Evaluations will be activated after verification.
Weitere Artikel von Wanda Jackson