Article successfully added.
$126.69 *
$158.38 *
(20.01% Saved)
* incl. VAT / plus shipping costsDepending on the country of delivery, the VAT at checkout may vary.
Ready to ship today,
delivery time** appr. 1-3 workdays
catalog number:

BCD16114

weight in Kg

2
8-CD box (LP-size) with 48-page book, 219 tracks. Playing time approx. 578 mns. This eight-CD...
more
Wanda Jackson: Tears Will Be The Chaser..(8-CD Deluxe Box Set)
8-CD box (LP-size) with 48-page book, 219 tracks. Playing time approx. 578 mns.

This eight-CD collection contains all of
Wanda Jackson
's Capitol recordings from 1963 to 1973, including nine Top 30 country hits,
The Box It Came In, Because It's You, Tears Will Be The Chaser For The Wine
,
Both Sides Of The Line, A Girl Don't Have To Drink To Have Fun, My Big Iron Skillet, A Woman Lives For Love, Fancy Satin Pillows
and
Back Then
, plus ten unissued recordings and several songs that only appeared on singles. All of
Wanda Jackson
's country and rock 'n' roll albums from 1963 to 1973 are here, including the Grammy-nominated 'Two Sides Of..', as well as 'Blues In My
Heart
', and 'Salutes the Country Music Hall of Fame.' All of Wanda's recordings in German, Dutch, and Japanese are here too, including the hits
Santo Domingo
and
Morgen Ja Morgen
. The set is rounded out with photos from
Wanda Jackson
's personal photo album, and a new biography.
TEARS WILL BE THE CHASER FOR THE WINE
Wanda Jackson sings. That's what she does. She discovered early that she was meant to sing, and stayed true to her calling. Unlike many of her contemporaries, she's comfortably off, but when she can't get out and sing, she has a hard time coping with the mundaneness of everyday life. Back in the Fifties when other women her age were settling into a routine of child rearing, cooking and housework, Wanda was performing, touring overseas, and flying to Los Angeles or Nashville for sessions. Housework holds no allure now. Wanda's husband, Wendell, jokes that he was eating blackened food years before it became fashionable.
The sweat and determination that Wanda put into her career during the Fifties and Sixties becomes clear in sometimes poignant ways. She breaks out her old Martin D-18 guitar, the one with 'Wanda Jackson' on it. The back has been repaired where her belt buckle and costume jewelry nearly wore it through. The pick guard has been extended to accommodate the beating it took. Like a slave quilt, the old D-18 is almost a piece of folk art that says much about the person who once used it.
Our previous Wanda Jackson boxed set covered her recording career from 1954 to the end of 1962. As it closed, Wanda,
Patsy Cline
and
Kitty Wells
were the most successful women in country music. By the time this set opens in June 1963, Patsy Cline was dead. The country music market was minuscule by today's standards. Album sales rarely topped 10,000; singles did well if they sold 50,000 copies. Today, best-selling country albums regularly top one million copies and recording budgets start at a quarter of a million dollars and peak in the millions. An artist releases an album every year or two. Wanda's albums were usually cut in three four-song sessions and cost less than two thousand dollars for the pickers, the vocal chorus, and the studio. She was committed to two albums a year. 
 It was a very different world, but the key--then as now--was breaking out of the country market to tap into pop sales. Patsy Cline managed it, as did
Jim Reeves
and several others, but the arrival of the Beatles in early 1964 made it harder for country artists to get airplay on pop stations, and country music went into one of its periodic downturns. Then, in the late Sixties,
Glen Campbell
pioneered an entirely new pop-country fusion. Country songs hadn't changed very much since
Hank Williams
died, but Campbell, along with
Roger Miller
,
Johnny Cash
,
Kris Kristofferson
and others, began stretching the boundaries, and nearly everyone followed. The instrumentation got fuller, the songs got wordier, and pickers started using chords that Hank wouldn't have recognised. Wanda--like every other country artist--had to come to terms with these changes.
Video von Wanda Jackson - Tears Will Be The Chaser..(8-CD Deluxe Box Set)
Article properties:

Wanda Jackson: Tears Will Be The Chaser..(8-CD Deluxe Box Set)
Album titlle:

Tears Will Be The Chaser..(8-CD Deluxe Box Set)

Genre

Country

Preiscode

HI

Edition 2

Deluxe Edition

Artikelart

Box set

EAN:

4000127161147

weight in Kg

2
Wanda Jackson If not for her good friend Elvis Presley's sage advice, Wanda Jackson might...
more
"Wanda Jackson"
Wanda Jackson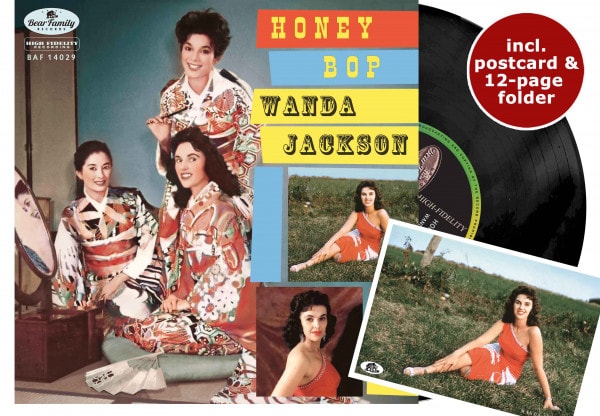 If not for her good friend Elvis Presley's sage advice, Wanda Jackson might have stuck with good old-fashioned country music. After all, she'd already scored a sizable hit for Decca in 1954 with You Can't Have My Love, an appealing traditional country duet with Billy Gray. But The Hillbilly Cat intuitively understood that a new sound was brewing across the South, one he was driving teenage girls crazy with. As he toured with Wanda in 1955, Elvis created bedlam everywhere they played.
Between gigs, he advised Wanda to join him aboard the rockabilly bandwagon, reasoning that her rip-roaring pipes were tailor-made for the incendiary style. Much as Elvis ascended to the throne as the king of rockabilly like a rocket in flight, Wanda would eventually reign as the idiom's queen. Unlike many of her peers, Wanda didn't have to deal with disapproval from her parents—they actively encouraged her. Her father, Tom Jackson, was a guitarist and fiddler, while her mother Nellie was just as integral to her career. "The fact that I'm an only child helped a lot," said Wanda. "They were able to concentrate all of their attention and efforts on me. My career was really a family affair. My mother made my clothes. I designed them, she made them. She was a professional seamstress, so she made almost everything I wore, on and offstage. She could fit me like a glove.

And then my dad gave up his job so he could travel with me, take care of me on the road. So my folks sacrificed their time together, any social life they could have had. They just invested all of their energies in me." Born October 20, 1937 in Maud, Oklahoma, Wanda was five years old when she and her folks moved to California, first settling in Los Angeles and then outside of Bakersfield. Tom placed a guitar in his daughter's hands when she was only six. Western swing was the thing on the West Coast, and the Jacksons happily soaked it up. "They loved to dance. They were beautiful dancers," said Wanda. "In those days, people didn't get babysitters. If a couple did something, then the children were included. And in these dance halls in California, I remember the dance area was one place, and then they'd have like the beer garden in the other. My mother is a teetotaler, and some of their friends would have drinks. But she'd stay with me. They'd go have their drinks and then come back. "They said I'd stand right in front of the bandstand all night long with my head back, watching and listening from the age of six. People will say, 'What are you gonna be when you grow up?' And I'd always say, 'A girl singer!' Maybe I thought I had the choice of being the girl or the guy, I don't know. The girls looked so pretty in the flashy clothes." Rose Maddox made a strong impression. "She was so feisty, and their music was so good. I sang some of her songs in the early days," said Wanda. "I liked the girl yodelers.

I liked the Bob Wills band. Just about every Western swing band had at least one girl singer, and most of them were yodelers. That was kind of the thing: if you were gonna be in a band, you had to yodel. So I learned real early how to yodel." The Jacksons moved back to The Sooner State when Wanda was nine, settling this time in Oklahoma City. An impromptu audition at KLPR radio led to her own radio program when Wanda was 14. "Just 15 minutes, just me and my guitar," she said. "Every day, after school, I'd go up to the station and do my show. Then my parents would pick me up and go home. Then I'd do my homework." One day Oklahoma City's resident country music star Hank Thompson called her at the station. "He heard my show on the radio, and he said he was just impressed with my style and my singing," she said. "I just about fainted right there on the spot. He said, 'This is Hank Thompson!' And he invited me to sing with him and The Brazos Valley Boys at The Trianon that Saturday night.

I was probably about 14. I remember saying, 'Oh, I'd love to, Mr. Thompson, but I'll have to ask my mother!' But they took me down, and that was the beginning of a great friendship and a relationship with Hank Thompson. He became my mentor, and helped me get my first and second record deals." Before long, Wanda was a regular member of Hank's troupe. But even his imprimatur couldn't convince Capitol Records A&R man Ken Nelson to sign her to the label Thompson had scored so many smashes for—Nelson thought her too young. So Hank brought her to Decca Records, where producer Paul Cohen was more receptive. At the end of Wanda's very first Decca date in March of '54 in Hollywood, Thompson cajoled her into cutting You Can't Have My Love as a duet with his bandleader Gray. "I was very upset. I knew in my mind that I didn't want to be connected with a guy. I didn't want a team," said Wanda. "I didn't even want to record it, but they kind of pressured me into it. I was nearly in tears when I was singing it, I was so mad."
The song became a national hit, which dulled the sting. Jackson subsequently journeyed to Nashville in March of 1955 for a Decca session; while she was in town she made her debut on 'The Grand Ole Opry.' What should have been an early career highlight turned out to be anything but...

Auszug/Excerpt: Wanda Jackson
Read more at: https://www.bear-family.com/jackson-wanda/?c=128600
Copyright© Bear Family Records®
Read, write and discuss reviews...
more
Customer evaluation for "Tears Will Be The Chaser..(8-CD Deluxe Box Set)"
From:
Kristian Kober
On:
3 Oct 2017
Bear-Family-üblich exzellent-!
Was Wanda Jackson nach "Party" nicht noch alles gesungen hat - sehr schön, diese Box; ich werde brauchen, bis ich das alles richtig durch habe. Einfach grossartig wieder...
From:
Theo
On:
22 Aug 2017
Toll
Write an evaluation
Evaluations will be activated after verification.
Weitere Artikel von Wanda Jackson
Wanda Jackson: Honey Bop (LP, 10inch, 45rpm)
Art-Nr.: BAF14029


Ready to ship today, delivery time** appr. 1-3 workdays
Wanda Jackson: Wanda Jackson - Wanda Rocks (CD)
Art-Nr.: BCD16631


Ready to ship today, delivery time** appr. 1-3 workdays
Wanda Jackson: Rockin' With Wanda (LP, 10inch, Ltd.)
Art-Nr.: BAF11040


Ready to ship today, delivery time** appr. 1-3 workdays
Wanda Jackson: Santo Domingo - Ihre deutschen Aufnahmen (CD)
Art-Nr.: BCD15582


Ready to ship today, delivery time** appr. 1-3 workdays
Wanda Jackson: The Ballads of Wanda Jackson (CD)
Art-Nr.: BCD16848


Ready to ship today, delivery time** appr. 1-3 workdays