Back to general view
Money-back guarantee
Customer call centre
Shipping within EU: 6,99 €
100 days right of return
More than 50,000 different items available ex-warehouse.
Carl Perkins
The Sun Era Outtakes (5-CD)
catalog number: BCD17240
weight in Kg 0,300
Ready to ship today,
Delivery time appr. 1-3 workdays
Carl Perkins: The Sun Era Outtakes (5-CD)
Video von Carl Perkins - The Sun Era Outtakes (5-CD)
5-CD Mini-Box (CD-format) with 132-page booklet, 152 tracks. Playing time approx. 360 mns.
152 tracks and 45 separate songs.
Outtakes from all of
Carl Perkins
' Sun era recordings in one place! Everything from Carl Perkins' earliest hillbilly titles through his final recording for the film 'Jamboree'! Contains previous unissued titles and outtakes of almost all known songs. Lavishly illustrated booklet contains previously unpublished vintage photos. Complete up-to-date discography. Detailed track-by-track music commentary. Previously unpublished interviews with Carl Perkins' son Stan, and drummer WS Holland.
Carl Perkins was the best guitar player who ever set foot in the Sun studio. He was no slouch as a singer and song writer also. Until Johnny Cash and Jerry Lee Lewis became megastars, nobody - and that includes Elvis - sold more records at Sun than Carl Perkins.
But Carl Perkins was so much more than
Blue Suede Shoes
. In addition to eight singles and an album's worth of material, Carl Perkins left behind a treasure trove of recorded material consisting of unissued titles and studio outtakes. Many of these tracks have appeared over the years but, incredibly, there were still vintage recordings awaiting discovery. We present them here for the first time, along with every known Carl Perkins outtake from the Sun era. Finally - it's all here in one place, along with some delicious moments of studio chatter, false starts and song fragments. You've never heard Carl Perkins like this before.
We also offer some memorable home recordings from the Sun era - some of them previously unissued. They show Carl Perkins playing and singing in the privacy of his own living room. The accompanying book written by Sun historians Hank Davis and Scott Parker provides extensive song by song commentary to bring you even closer to the music. The book includes rare photos, and revealing and previously unpublished interviews with Carl Perkins' son Stan and drummer WS Holland.
5-CD Mini-Box (CD-format) with 132-page booklet, 152 tracks. Playing time approx. 360 mns.
Artikeleigenschaften von

Carl Perkins: The Sun Era Outtakes (5-CD)
Interpret:

Carl Perkins

Albumtitel:

The Sun Era Outtakes (5-CD)

Format

Box set

Genre

Rock 'n' Roll

Music Genre

Rock 'n' Roll

Music Style

Rock & Roll

Music Sub-Genre

201 Rock & Roll

Edition 2

Deluxe Edition

Title

The Sun Era Outtakes (5-CD Mini-Box)

Label

BEAR FAMILY RECORDS

Price code

ER

SubGenre

Rock - Rock'n'Roll

EAN:

4000127172402

weight in Kg

0.300
Artist description

"Perkins, Carl"
When Carl Perkins walked into 706 Union Avenue in the Fall of 1954, he was as country as a haystack. Carl had been hearing Elvis Presley's music on the radio for the past month or so and he knew that Sam Phillips' fledgling Sun label was the source of those sounds.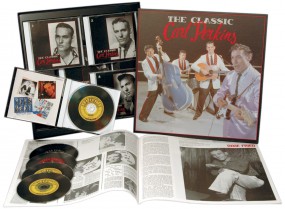 Carl figured that he and his brothers had been making the same kind of hillbilly bop music in the bars back in Jackson, Tennessee for close to a year now. If Presley could record and become famous, why couldn't he? Carl was right about one thing. The roots of the rockabilly revolution that had only recently begun were smouldering beneath the surface in Carl's guitar playing and songwriting. But he was very wrong if he thought his lanky and angular country boy appearance could bring teenage girls all over America to a swoon. Presley was beautiful and sexy and vaguely dangerous looking. Carl was a married man with a balding pate and the start of a serious drinking problem. The latter was fixable, but the first two weren't.
Sun records owner Sam Phillips remembers exactly what he thought the first time he met Carl Perkins. "I looked at him and said to myself, 'There's one of the greatest plowhands in the world.'" Phillips meant it, at least partly, as a compliment. What he saw was a mile-wide expanse of country soul. He hoped that someday he could coax that soul out of Carl in the studio. It took a while, but he was not to be disappointed.
For his part, Carl was proud of the fact that he was independently moving in the same direction as Presley. In fact, Blue Moon Of Kentucky had been part of Carl's repertoire in the Jackson honkytonks well before Sun 209 was released. If nothing else, it meant that Sam would not have to invent
rock 'n' roll a second time with Carl Perkins. The man was well on his way to a private musical revolution.
Somewhat against his better judgement, Sam invited Carl and his brothers Clayton and Jay, along with drummer W. S. Holland, into his tiny studio for an audition. He later recalled thinking that he feared breaking the heart of that big old country boy by rejecting him without a hearing. Carl paced nervously as Holland unpacked his drum kit. Phillips did what he could to keep the singer calm, although experience had proven that some tension could be an asset in the studio.
Carl began by running through the band's repertoire which, not surprisingly, consisted of just about everything on the country charts. Bands in the local honkytonks were expected to be human jukeboxes. The audiences knew the tunes and it provided some novelty to hear them live rather than blaring through the smoke and noise on a jukebox. Mostly it was Carl who handled the vocal chores, although his older brother Jay occasionally took over the microphone. It was the band's job to play what local hard working drinkers wanted to hear in 1953 and early '54 – which was just about anything by Lefty Frizzell, Hank Williams, Ernest Tubb and Webb Pierce.
As Carl eagerly ran through his song list, Sam Phillips, one of the world's earliest and most canny record producers, encouraged him to keep going. He knew what he wanted to hear and it wasn't a cover version of a Nashville hit. He couldn't tell Carl exactly what he had in mind, but he knew this wasn't it. Given the budget at the Memphis Recording Service, Phillips sure wasn't going to waste valuable tape on Lovesick Blues or Always Late. The only thing Sam Phillips heard that intrigued him that first day was a song called Turn Around. Phillips liked two things about it. It provided a showcase for Carl's soulful voice, and – more importantly – it was an original. Because Carl had written it, Phillips could publish it. That meant retaining a few all-important extra pennies on the sale of every record. Original compositions were not only a way to avoid paying money out, they were also an investment in the future. If any of these songs actually became a hit, Phillips (and Carl) would make some money on airplays. And, better yet, maybe somebody else would have to pay Sam for the right to make his own record of Carl's song.
The audition went well enough for Sam Phillips to invite the band back,
a gesture that meant the world to Carl, and fired his enthusiasm. "Keep writing," he told Carl. "There's no sense recording other folks' music. Let's hear what you can do. Bring me some more songs you've written." It didn't take much prodding to engage the songwriter in Carl. The honkytonks gave him no real incentive to create his own music. Dancers and revellers simply wanted to hear what they knew. They tolerated rather than encouraged Carl's originality. Now, Carl was faced with a famous record producer – the man who had discovered Elvis Presley – asking him to write his own music so that just maybe it might appear on one of those yellow Sun records.
Sam Phillips decided to place Carl with his two resident country producers: Quinton Claunch and Bill Cantrell. This freed Phillips up to get on with other business in his hectic life and assured that someone would be responsible for shepherding this raw young singer into a level of competence that might be worth recording. It also indicated that, at this point, Phillips saw Carl Perkins primarily as a country artist. Presley notwithstanding, Sun was still a country label. Phillips was weaning himself away from the blues artists he had begun with in favor of the hillbillies. Nobody could be sure that this Presley thing would last, or that there were more Presleys out there. And so Carl Perkins went to work on his first single record.
taken out of Carl Perkins BCD16752
The group practiced throughout the Fall and on into the early winter of 1954, Carl eagerly making the drive west from Jackson to Memphis, hoping each time that they'd finally nail a usable take. On January 22, 1955 they hit paydirt. The 'hillbilly weeper' Turn Around was committed to tape along with a usable version of another song Carl had written called Movie Magg. The pairing of a dirge with an uptempo rhythm number was a good way for Phillips to hedge his bets. Movie Magg was a clever song. Its title was a pun on a very popular form of mass market entertainment – a movie magazine – that housewives and teenage girls gobbled up each month to read about their favorite stars and heartthrobs. The 'Magg' in Perkins' song was short for Maggie – a girl he could only see on Saturday night when he took her to the movies or, in Carl's very rural lyric, a 'picture show.' The song talked about "Breaking new ground the whole week long" and "polishing up his old horse Beck." They were wonderful images, but they made it clear that Carl was singing to a very different audience than Chuck Berry was setting his sights on. The entire proceedings were certifiably country, although on Movie Magg there are rudimentary indications that Carl was capable of taking the whole thing up to another level. Sam Phillips heard it too but, for now, he was willing to watch and wait.