Article successfully added.
$15.79 *
$18.05 *
(12.52% Saved)
* incl. VAT / plus shipping costsDepending on the country of delivery, the VAT at checkout may vary.
Ready to ship today,
delivery time** appr. 1-3 workdays
catalog number:

BCD15631

weight in Kg

0.115
1-CD with 28-page booklet, 23 tracks. Playing time approx. 65 mns. Perhaps the most innovative...
more
Tom T. Hall: Ballad Of Forty Dollars - Homecoming
1-CD with 28-page booklet, 23 tracks. Playing time approx. 65 mns.
Perhaps the most innovative songwriter in country music,
Tom T. Hall
brought the narrative drive of folk music to country. They called him 'The Singing Storyteller' back in the Seventies, and even after his own incredible hit streak (more than 50 hits over 20 years) ended, he continued to write hit songs for
Alan Jackson
and others. The consensus is that his earliest albums are his best, and we've gathered his first four LPs on two CDs
Article properties:

Tom T. Hall: Ballad Of Forty Dollars - Homecoming
Album titlle:

Ballad Of Forty Dollars - Homecoming

Genre

Country

Preiscode

AH

Artikelart

CD

EAN:

4000127156310

weight in Kg

0.115
Tom T. Hall May 25th 1936 - † August 20th 2021 TOM T. HALL OBITUARY  ...
more
"Tom T. Hall"
Tom T. Hall
May 25th 1936 - † August 20th 2021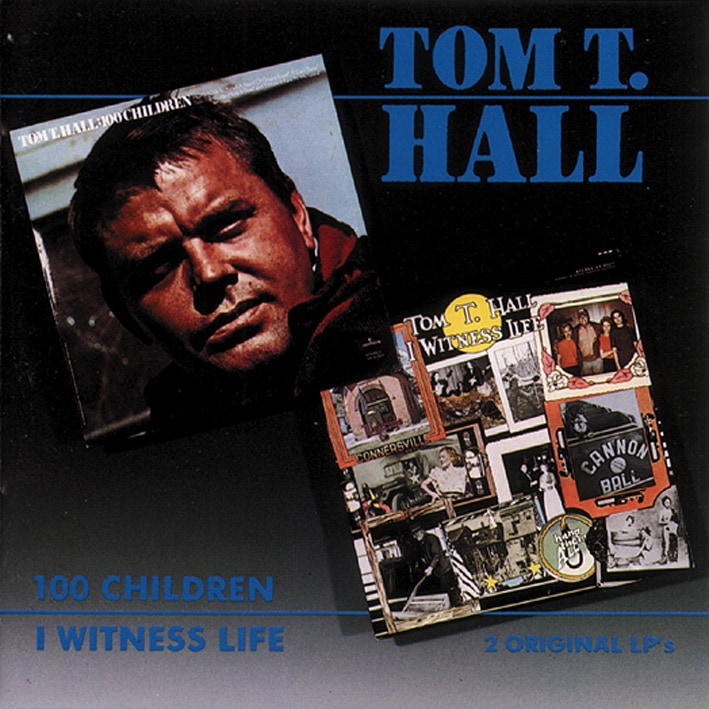 TOM T. HALL OBITUARY
Tom T. Hall did not gladly embrace the flashy role of a country music superstar as so many of his Nashville peers did, although by any standard he certainly qualified in that category. Hall was a warm, unapologetically low-key vocalist, not showy in the slightest when he was onstage. He was also a master storyteller, a thoughtful and observant songwriter who could legitimately lay claim to the handle of poet, and was uncommonly prolific on both fronts. Hall posted his first hit as a singer in 1968 and was still going strong on those charts close to two decades later, although he didn't keep what's probably his best-known song for himself.
Thomas Hall didn't particularly chase fame and fortune as a young man. Born May 25, 1936 in a log cabin outside of Olive Hill, Kentucky, he grew up loving bluegrass, just as a great many Kentuckians did. He picked a little guitar in his youth and dropped out of school at 15. Hall spent time on the airwaves of WMOR radio in Moorhead, Kentucky before entering the Army in 1957 for a four-year hitch (he and Elvis were stationed in Germany concurrently). Back in the states, Tom reverted to deejaying until some of the songs he'd been writing in his spare time found their way to the offices of Jimmy Key, who ran Newkeys Music in Nashville in cahoots with singer Jimmy C. Newman. 
Hall relocated to Music City in 1964, invited to hisliving as a songsmith at Newkeys. Success didn't happen overnight, but Johnny Wright made Hall'sHello Vietnama 1965 C&W chart-topper, and Tom'sBilly Christianreceived plenty of exposure as the flip side of The Statler Brothers' blockbusterFlowers On The Wallthat same year. Hall also wrote extensively for truck drivers' favorite Dave Dudley, a mainstay presence at Newkeys (Dave cut Tom's drollMadin 1964 and had a hit with Hall's patrioticWhat We're Fighting Forthe following year). It was Key's idea to add the middle 'T.' to Hall's moniker, just to add a little pizzazz.
Key convinced Mercury Records A&R man Jerry Kennedy to sign Hall as an artist in 1967. Hall decided he'd give it a try, cuttingI Washed My Face In The Morning Dewas his Top 30 C&W debut with Kennedy producing. Yet Mercury wouldn't profit from what was likely Hall's most enduring composition of all. Singer Margie Singleton, wife of former Mercury honcho Shelby Singleton, asked Tom to write her a new number. He responded with the humorousHarper Valley P.T.A. 
Margie didn't immediately commit the epic tale of a young woman successfully facing down her judgmental neighbors to tape, but Shelby, by then heading his own Plantation label in Nashville, had sassy young chanteuse Jeannie C. Riley belt the tune with none other than a moonlighting Kennedy adding musical punctuation on dobro. Not only didHarper Valley P.T.A.become a #1 1968 country juggernaut, it followed chart-topping suit on the pop hit parade as well, rendering Jeannie an instant star and earning Hall some enviable royalty checks. Tom T. was suddenly a hot commodity. 
1968 was also when Hall started scoring major hits of his own, his offbeatBallad Of Forty Dollarsgoing Top Five country.Homecomingfollowed suit the next year, andA Week In A Country Jailwas his first chart-topper in early '70. Each and every one of them told a fascinating real-life story, Hall's keen eye for detail and subtle shading distinguishing his recordings from boilerplate weepy country fare. The drivingShoeshine Manand an ominousSalute To A Switchbladegave Hall more sustained 1970 success.The Year Clayton Delaney Diedrestored Tom T. to the peak of the country hit parade in '71. 
The '70s brought Hall a string of mammoth country sellers. A touching(Old Dogs-Children And) Watermelon Winesoared to the top of the C&W hit parade in early '73, and the spicyRavishing Ruby, spiced with mariachi horns, sold very well later that year. Hall deemphasized his country content a bit on some of his top sellers during this period and found mainstream acceptance in the process; the slightly mawkishI Love, basically a laundry list of Tom's favorite things counted off at a snail's pace, not only sat atop the C&W listings, it just missed Top Ten pop status in late '73, whileThat Song Is Driving Me Crazy, Hall's first #1 C&W hit of 1974, incorporated a razzmatazz Dixieland horn section. More country chart-toppers—Country IsandI Care—soon followed. Hall's jolly '75 hitI Like Beerremains a beloved staple of polka bands worldwide to this day.
Faster Horses (The Cowboy And The Poet)was Hall's final #1 country entry for Mercury in 1976, though he continued to navigate the upper end of those charts with an unexpected bluegrass-drenched treatment of Manfred Mann'sFox On The Runand his ownYour Man Loves You, Honey. He defected to RCA in 1977 and enjoying more solid sellers withWhat Have You Got To Lose,The Old Side Of Town, andJesus On The Radio (Daddy On The Phone), all Hall originals. After a brief early '80s stint on Columbia, Tom T. returned to his old Mercury stomping grounds and registered one last C&W Top Ten entry with his revival of the Tin Pan Alley chestnutP.S. I Love You, which harked back to a 1934 hit rendition by Rudy Vallee.
Not particularly enamored of tirelessly working the country oldies circuit to endlessly regurgitate his hits, Hall took it relatively easy in his later years, performing and recording only as much as he cared to. He passed awayAugust 20, 2021at the age of 85 inFranklin, Tennesseesecure in the knowledge that his was a unique songwriting talent. When it came to telling a mesmerizing story with clean, crisp precision that more often than not tugged at your heartstrings with a mellow, burnished pull, Tom T. Hall was an unalloyed master.
--Bill Dahl 
Read, write and discuss reviews...
more
Customer evaluation for "Ballad Of Forty Dollars - Homecoming"
Write an evaluation
Evaluations will be activated after verification.
Weitere Artikel von Tom T. Hall
Tom T. Hall: I Witness Life - 100 Children - 2 Original LP's...
Art-Nr.: BCD15658


Ready to ship today, delivery time** appr. 1-3 workdays
Tom T. Hall: In Concert! - Saturday Morning Songs (CD)
Art-Nr.: CDMRLL78

Tom T. Hall: New Train-Same Rider - Places I've Done Time (CD)
Art-Nr.: CDMRLL76


only 1x still available
Ready to ship today, delivery time** appr. 1-3 workdays