Article successfully added.
Tom T. Hall
I Witness Life - 100 Children - 2 Original LP's (CD)
$16.11 *
$18.41 *
(12.49% Saved)
* incl. VAT / plus shipping costsDepending on the country of delivery, the VAT at checkout may vary.
Ready to ship today,
delivery time** appr. 1-3 workdays
catalog number:

BCD15658

weight in Kg

0.115
1-CD with 24-page booklet, 22 tracks. Playing time approx. 60 mns. "Lost summers are usually...
more
Tom T. Hall: I Witness Life - 100 Children - 2 Original LP's (CD)
1-CD with 24-page booklet, 22 tracks. Playing time approx. 60 mns.
"Lost summers are usually the winding-down periods... like the first light that fades back into darkness before dawn, lost summers have a way of ending what needed to be ended and announcing the beginning of everything that's important."
One of Tom's earliest memories, when he was about three or four years old, was of insisting that his mother wake him at 5:30 in the morning to hear Ernest Tubb's 15-minute live radio show broadcast from Nashville. The entire family's love of music filled their home, and Tom began to play the guitar and write poems and songs while he was still quite young. His first guitar was made from a salt box, strings and a stick, (but was broken on purpose by his older brother Gene). Then, when Tom was eight, the Hall family moved into another house where an old Martin guitar had been left sitting in the corner of a room. Virgil repaired the Martin's cracked back with wood from a dresser drawer and, by the time Tom was he had written his first song, Haven't I Been Good To You? -inspired by a fight he witnessed while visiting a young neighbor couple.

Tom learned about show business from a "very grand old gentleman by the name of Hurley Curtis" ( `Uncle' Curt), who traveled around with his projector, screen, and cowboy films to towns too small to have movie theatres. Tom worked as his assistant for awhile, helping to organize and present the shows, and also delivering the commercial trailer at the end of each show for the local merchant who had sponsored the program. When Uncle Curt suggested that live music might attract more people, Tom organized a bluegrass band he called the Kentucky Travelers. He was laid off by the Blue Anchor overall factory during this period, so was able to devote all of his time to playing music, which soon included the band's natural progression to working on a radio station.
In those days," Tom explained in a 1967 interview with 'Music City News' editor Dixie Deen (whom he later married), "radio was so big that if you had a radio show you were considered a star. We went to a radio station in Morehead, Kentucky (WMOR) and applied for a job... We were sponsored by a man who ran a flour company. I had written a song called 'Polar Bear Flour', which was a smash with the flour man who signed us up." When the program went off the air, Tom had been so successful at selling flour that he was asked to stay on at WMOR as a disc jockey.
Tom Hall was attracted to the world of show business, but isn't sure if he would have felt that way then if it hadn't been for Uncle Curt himself, an impressive man who was always polite, well-informed, and neatly dressed - "a philosopher and a thinker and... a very colorful guy. He had been a big influence on me, even though at the time I didn't realize I was learning from him. One
thing he taught me was not to brag and tell big tales which, for lack of travel and experience, had been one of our favorite pastimes."

The folk art of storytelling is not only a form of entertainment, but a means of passing on family and cultural history from generation to generation. Virgil Hall, Tom's father, was an accomplished storyteller. His skills had been passed on from his own father, also a minister, and had been polished throughout his years as a circuit preacher and father of ten sons and daughters. Relatives and neighbors would gather on the Halls' front porch, where the "old people would have quite a bit of authority, because they had been out there on the world stage." Their stories had been retold over and ever so many times that "they were just masterpieces of monologue." These experiences provided the foundation for the songwriting style Tom was beginning to develop.


Article properties:

Tom T. Hall: I Witness Life - 100 Children - 2 Original LP's (CD)
Album titlle:

I Witness Life - 100 Children - 2 Original LP's (CD)

Genre

Country

Price code

AH

Year of publication

1992

Artikelart

CD

EAN:

4000127156587

weight in Kg

0.115
Tom T. Hall Tom T. Hall "He was like a human demo," said Mercury's Jerry Kennedy of...
more
"Tom T. Hall"
Tom T. Hall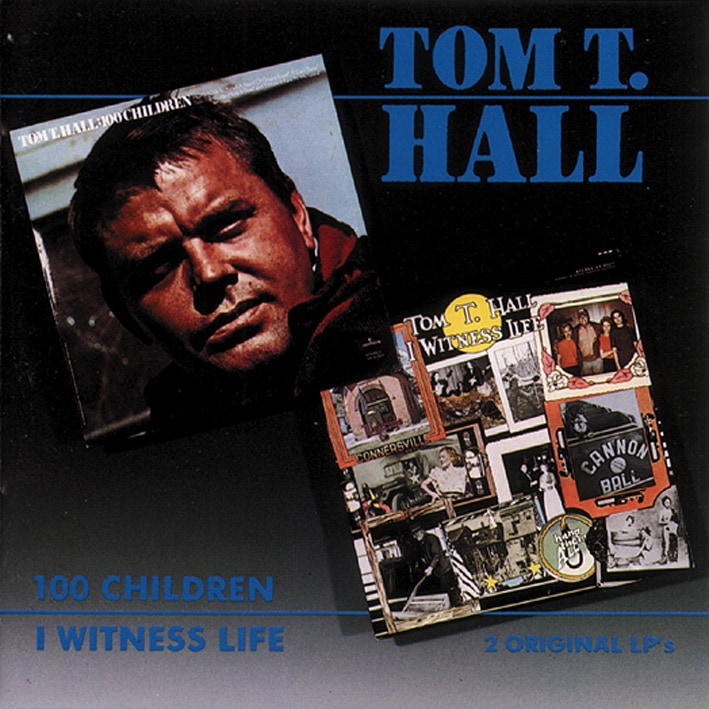 Tom T. Hall
"He was like a human demo," said Mercury's Jerry Kennedy of Tom T. Hall. "His music publisher, Jimmy Key, would bring him in. Jimmy had brought us Dave Dudley, and he would bring in Tom with songs he thought would fit Dave. Then one day Jimmy said, 'What would you think about recording Tom?' It hadn't crossed my mind. He was so quiet and shy. He'd sing his demos and leave." At Kennedy's insistence, Tom Hall became Tom T. Hall to differentiate him from Tom Tall and Tompall Glaser.
Signed in 1967, Hall first cracked the Top 10 with Ballad Of Forty Dollars. He wrote prolifically, and one morning sang an untitled song to his wife, Dixie Deen. "It was a bitter and hard look at old time funerals that took place in my town when I was a kid," he said. "When I was thirteen or fourteen, I worked in a graveyard as a summertime job. I helped dig the graves and carry the chairs. It dawned on me then how much hypocrisy was involved. Yesterday, he was a son-of-a-bitch. Today, he was a great old guy that meant well. I didn't take that song with me when I went to see Jimmy Key. We were listening to tapes when Key went to answer the phone. When he came back, he said, 'That was Dixie. Sing the one about forty dollars.' I sang it. He snapped his fingers and said, 'That's the one.'" And so it was.
It reached #4, establishing Hall in his niche. He would relate cracker barrel homilies, short stories, and tall tales. He'd sing them in a comfortable, rumpled voice that made you feel as if you were sitting across the table. The rhymes were often weak, betraying the speed with which he wrote, but the songs had an engaging humanity.
Tom T. Hall Ballad Of Forty Dollars - Homecoming
Read more at: https://www.bear-family.de/hall-tom-t.-ballad-of-forty-dollars-homecoming.html
Copyright © Bear Family Records
Read, write and discuss reviews...
more
Customer evaluation for "I Witness Life - 100 Children - 2 Original LP's (CD)"
Write an evaluation
Evaluations will be activated after verification.
Weitere Artikel von Tom T. Hall
Tom T. Hall: Ballad Of Forty Dollars - Homecoming
Art-Nr.: BCD15631


Ready to ship today, delivery time** appr. 1-3 workdays
Tom T. Hall: In Concert! - Saturday Morning Songs (CD)
Art-Nr.: CDMRLL78


Ready to ship today, delivery time** appr. 1-3 workdays
Tom T. Hall: New Train-Same Rider - Places I've Done Time (CD)
Art-Nr.: CDMRLL76

Tom T. Hall: Ol' T's In Town - A Soldier Of Fortune (CD)
Art-Nr.: CDMRLL77


Ready to ship today, delivery time** appr. 1-3 workdays
Tom T. Hall: 50 Greatest Hits (2-CD)
Art-Nr.: CDHUMP097