Back to general view
Money-back guarantee
Customer call centre
Shipping within EU: 6,99 €
100 days right of return
More than 50,000 different items available ex-warehouse.
Carl Perkins
The Classic Carl Perkins (5-CD)
catalog number: BCD15494
weight in Kg 1,200
Ready to ship today,
Delivery time appr. 1-3 workdays
Carl Perkins: The Classic Carl Perkins (5-CD)
Other companies have Carl Perkins sets, but no one else has all the Sun recordings (complete - with some previously unissued) as well as his Columbia recordings from 1958-1962, and everything he cut for Decca between 1963 and 1965.
We start in 1954 with the early rockabilly sound of 'Honky Tonk Gal', then the early country singles, and then 'Blue Suede Shoes' and those classic Sun rockabilly tracks. We have Your True Love at its original tempo and speeded-up for single release, and we have newly discovered alternate takes.
Then we have all the early Columbia recordings like 'Where The Rio De Rosa Flows', 'Jive After Five', 'Pink Pedal Pushers', and 'Pointed Toe Shoes', and finally we have the Decca sides from Nashville and London, like 'Big Bad Blues', 'Lonely Heart', and 'Monkey Shine'. The first and last word on early Carl Perkins. Classic indeed!
Carl Perkins - The Classics
BCD 15494 EH - EAN: 4000127154941
5-CD Box-Set (LP-size) with 24-page book - Rock'n'Roll
The Classic Carl Perkins
There is an enduring myth about Carl Perkins, perpetuated occasionally by Perkins himself; that he might just have been as big as Elvis Presley if he had not suffered an automobile accident at a critical juncture in his career; or if he had only had a manager as wily as Col. Parker, or if only Sun had not deserted him to concentrate on Jerry Lee Lewis.
Elvis Presley and Carl Perkins both leaped into the public consciousness at approximately the same time with music that broke down well established barriers. Indeed, both were nourished by the same wellsprings, but the similarity ends there. This is not to imply that Perkins was an inferior musician to Presley because in many ways he was superior, or that Perkins deserved the obscurity that followed so swiftly upon the heels of immense acclaim. Rather, Presley had both the malleability and image to sustain a career in an orbit beyond the one that had spawned him. Carl Perkins did not. His music was born and bred in the bar-rooms of the Mid South. The rhythms that underpinned his music and the images in his songs were, at their best, pure honky tonk music. He got lucky with one song near the dawn of his long career – and he doubtless deserved that luck – but you could never take the country out of Carl Perkins.
Lake County Cotton Country
Although Perkins is closely associated with his adopted hometown, Jackson, Tennessee, he was born in the far northwest corner of the state, close to the banks of the Mississippi. His birth certificate gives his parents' address as Rt. 1, Ridgely. It gave his parents' names as Fonie 'Buck' Perkings and Louise Brantley. Their second child, born on April 9, 1932, was christened Carl Lee Perkings. The mis-spelling of the family name suggests that the literacy of the government employees was barely a notch higher than those whose arrivals in, and exits from, the world they were cataloguing.
It was the height of the Depression and Buck Perkins was a sharecropper without a market. The family lived in a three room shack and then in a one room storehouse. "Mama hung a sheet for partition," recalled Perkins in his first autobiography, "and our stove was an old tin barrel dad set upon some bricks in the middle of the floor." The kids in the neighborhood brought cast-off clothes for the Perkins brothers and Carl Perkins often told the story of how one kid asked for his trousers back after Carl Perkins had tackled him in a football game.
Music entered Perkins' life from two directions; the Grand Ole Opry from Nashville and a black sharecropper across the field. The Opry was inevitable. "My Daddy only liked country music," recalled Perkins. "He was the one that turned the radio on and off because we didn't have electricity, just a battery that we'd buy once a year when the crops came in."
The black sharecropper was named John Westbrook (or Westbrooks) and Perkins called him 'Uncle John.' "He used to sit out on the front porch at night," recalled Perkins to Lenny Kaye, "with a gallon bucket full of coal oil rags that he'd burn to keep the mosquitoes off him, and I'd ask my daddy if I could go to Uncle John's and hear him pick some."
In the same way that Perkins rarely sang a song the same way twice, he also never seemed to tell a story exactly the same way twice. In some versions, Uncle John gave Carl Perkins his guitar on a Saturday and died the following Wednesday. In another version, Buck Perkins bought the guitar for $3.00. However, his influence upon Perkins was incalculable: "It was his inspiration that made me know what it was I wanted to do for the rest of my life."
Shortly after the end of the Second World War, Buck Perkins moved his family to Bemis, Tennessee, where his brothers worked in the cotton mills. Buck was refused a job in the mills because of his deteriorating lungs and the Perkins family went back to sharecropping, although this time they had a house with electricity and a refrigerator. Perkins soon found a use for the electricity when he bought a cheap Harmony guitar and plugged it in.
Although he generally claimed to have no direct influences, Perkins' style was obviously formed by listening to the guitarists who worked on the Opry. In particular, he remembers 'Butterball' Paige who played the single string leads with Ernest Tubb for a few years in the late '40s. Another influence was probably Arthur 'Guitar Boogie' Smith whose 1946 hit, Guitar Boogie, influenced a generation of pickers and set a new standard for sheer technique.
And then there was the blues. It was unlikely that Perkins was allowed to listen to the R&B stations but Perkins never forgot the lessons that Uncle John had taught him. "I liked the slur he put on the blues things," he recalled to Lenny Kaye. "I could never get away from what was buried in my mind of the sound he made on that simple little guitar. I just sat and constantly worked on that."
The Perkins Brothers Band
There can be little doubt that Carl Perkins's older brother Jay and his younger brother Clayton would never have thought of a career in music had it not been for constant badgering from Carl Perkins. He wanted a back-up group and his two brothers were the prime candidates.
5-CD boxed set (LP-size) with 28-page book, 136 tracks. Playing time approx. 346 mns
Artikeleigenschaften von

Carl Perkins: The Classic Carl Perkins (5-CD)
Interpret:

Carl Perkins

Albumtitel:

The Classic Carl Perkins (5-CD)

Format

Box set

Genre

Rock 'n' Roll

Music Genre

Rock 'n' Roll

Music Style

Rock & Roll

Music Sub-Genre

201 Rock & Roll

Edition 2

Deluxe Edition

Title

Classic 5-CD-Box & 24-Page Book

Label

BEAR FAMILY RECORDS

Price code

EH

SubGenre

Rock - Rock'n'Roll

EAN:

4000127154941

weight in Kg

1.200
Artist description

"Perkins, Carl"
When Carl Perkins walked into 706 Union Avenue in the Fall of 1954, he was as country as a haystack. Carl had been hearing Elvis Presley's music on the radio for the past month or so and he knew that Sam Phillips' fledgling Sun label was the source of those sounds.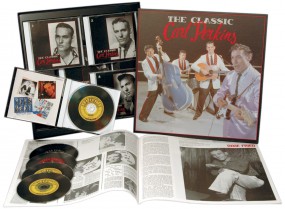 Carl figured that he and his brothers had been making the same kind of hillbilly bop music in the bars back in Jackson, Tennessee for close to a year now. If Presley could record and become famous, why couldn't he? Carl was right about one thing. The roots of the rockabilly revolution that had only recently begun were smouldering beneath the surface in Carl's guitar playing and songwriting. But he was very wrong if he thought his lanky and angular country boy appearance could bring teenage girls all over America to a swoon. Presley was beautiful and sexy and vaguely dangerous looking. Carl was a married man with a balding pate and the start of a serious drinking problem. The latter was fixable, but the first two weren't.
Sun records owner Sam Phillips remembers exactly what he thought the first time he met Carl Perkins. "I looked at him and said to myself, 'There's one of the greatest plowhands in the world.'" Phillips meant it, at least partly, as a compliment. What he saw was a mile-wide expanse of country soul. He hoped that someday he could coax that soul out of Carl in the studio. It took a while, but he was not to be disappointed.
For his part, Carl was proud of the fact that he was independently moving in the same direction as Presley. In fact, Blue Moon Of Kentucky had been part of Carl's repertoire in the Jackson honkytonks well before Sun 209 was released. If nothing else, it meant that Sam would not have to invent
rock 'n' roll a second time with Carl Perkins. The man was well on his way to a private musical revolution.
Somewhat against his better judgement, Sam invited Carl and his brothers Clayton and Jay, along with drummer W. S. Holland, into his tiny studio for an audition. He later recalled thinking that he feared breaking the heart of that big old country boy by rejecting him without a hearing. Carl paced nervously as Holland unpacked his drum kit. Phillips did what he could to keep the singer calm, although experience had proven that some tension could be an asset in the studio.
Carl began by running through the band's repertoire which, not surprisingly, consisted of just about everything on the country charts. Bands in the local honkytonks were expected to be human jukeboxes. The audiences knew the tunes and it provided some novelty to hear them live rather than blaring through the smoke and noise on a jukebox. Mostly it was Carl who handled the vocal chores, although his older brother Jay occasionally took over the microphone. It was the band's job to play what local hard working drinkers wanted to hear in 1953 and early '54 – which was just about anything by Lefty Frizzell, Hank Williams, Ernest Tubb and Webb Pierce.
As Carl eagerly ran through his song list, Sam Phillips, one of the world's earliest and most canny record producers, encouraged him to keep going. He knew what he wanted to hear and it wasn't a cover version of a Nashville hit. He couldn't tell Carl exactly what he had in mind, but he knew this wasn't it. Given the budget at the Memphis Recording Service, Phillips sure wasn't going to waste valuable tape on Lovesick Blues or Always Late. The only thing Sam Phillips heard that intrigued him that first day was a song called Turn Around. Phillips liked two things about it. It provided a showcase for Carl's soulful voice, and – more importantly – it was an original. Because Carl had written it, Phillips could publish it. That meant retaining a few all-important extra pennies on the sale of every record. Original compositions were not only a way to avoid paying money out, they were also an investment in the future. If any of these songs actually became a hit, Phillips (and Carl) would make some money on airplays. And, better yet, maybe somebody else would have to pay Sam for the right to make his own record of Carl's song.
The audition went well enough for Sam Phillips to invite the band back,
a gesture that meant the world to Carl, and fired his enthusiasm. "Keep writing," he told Carl. "There's no sense recording other folks' music. Let's hear what you can do. Bring me some more songs you've written." It didn't take much prodding to engage the songwriter in Carl. The honkytonks gave him no real incentive to create his own music. Dancers and revellers simply wanted to hear what they knew. They tolerated rather than encouraged Carl's originality. Now, Carl was faced with a famous record producer – the man who had discovered Elvis Presley – asking him to write his own music so that just maybe it might appear on one of those yellow Sun records.
Sam Phillips decided to place Carl with his two resident country producers: Quinton Claunch and Bill Cantrell. This freed Phillips up to get on with other business in his hectic life and assured that someone would be responsible for shepherding this raw young singer into a level of competence that might be worth recording. It also indicated that, at this point, Phillips saw Carl Perkins primarily as a country artist. Presley notwithstanding, Sun was still a country label. Phillips was weaning himself away from the blues artists he had begun with in favor of the hillbillies. Nobody could be sure that this Presley thing would last, or that there were more Presleys out there. And so Carl Perkins went to work on his first single record.
taken out of Carl Perkins BCD16752
The group practiced throughout the Fall and on into the early winter of 1954, Carl eagerly making the drive west from Jackson to Memphis, hoping each time that they'd finally nail a usable take. On January 22, 1955 they hit paydirt. The 'hillbilly weeper' Turn Around was committed to tape along with a usable version of another song Carl had written called Movie Magg. The pairing of a dirge with an uptempo rhythm number was a good way for Phillips to hedge his bets. Movie Magg was a clever song. Its title was a pun on a very popular form of mass market entertainment – a movie magazine – that housewives and teenage girls gobbled up each month to read about their favorite stars and heartthrobs. The 'Magg' in Perkins' song was short for Maggie – a girl he could only see on Saturday night when he took her to the movies or, in Carl's very rural lyric, a 'picture show.' The song talked about "Breaking new ground the whole week long" and "polishing up his old horse Beck." They were wonderful images, but they made it clear that Carl was singing to a very different audience than Chuck Berry was setting his sights on. The entire proceedings were certifiably country, although on Movie Magg there are rudimentary indications that Carl was capable of taking the whole thing up to another level. Sam Phillips heard it too but, for now, he was willing to watch and wait.