Article successfully added.
$16.92 *
$19.18 *
(11.78% Saved)
* incl. VAT / plus shipping costsDepending on the country of delivery, the VAT at checkout may vary.
Ready to ship today,
delivery time** appr. 1-3 workdays
32 tracks. Playing time approx. 75:56 minutes.  • 32 Fats Domino classics from his...
more
Fats Domino: The Ballads Of Fats Domino (CD)
32 tracks. Playing time approx. 75:56 minutes. 
•Some of his greatest hits are on board, including Blueberry Hill and
Blue Monday
•A wealth of lesser-known standout tracks as well from Fats' classic period
Fats Domino was a charter member of the Rock and Roll Hall of Fame precisely because he knew how to rock houses around the world like only a handful of his first-generation peers. The Fat Man personified the red-hot sound of New Orleans rhythm and blues like no one else during the 1950s and beyond, his delightful Creole accent, two-fisted piano prowess, and mighty horn-fueled band running like a well-oiled machine fine-tuned to a second-line beat. 
But there was another side to Fats, a bluesier, more ruminative approach that's extensively spotlighted on this 31-song collection, which spans 1952-1961. Some of his top sellers for Lew Chudd's Imperial Records are on board—Blueberry Hill, Poor Me, Don't Blame It On Me, Blue Monday—but you'll also find a wealth of lesser-known gems that underscore the Crescent
City
magic summoned up at each and every session by Fats and his collaborative partner, trumpeter/bandleader/producer Dave Bartholomew. The rhythms may be a little more restrained and Domino's vocals a little warmer and more mellow, but his trademark Big Easy charm is here in joyous abundance.
Video von Fats Domino - The Ballads Of Fats Domino (CD)
Article properties:

Fats Domino: The Ballads Of Fats Domino (CD)
Album titlle:

The Ballads Of Fats Domino (CD)

Genre

R&B, Soul

Preiscode

AR

Artikelart

CD

EAN:

5397102175305

weight in Kg

0.115
Fats Domino Obituary Like the great Louis Armstrong before him, Fats Domino was a perfect...
more
"Fats Domino"
Fats Domino Obituary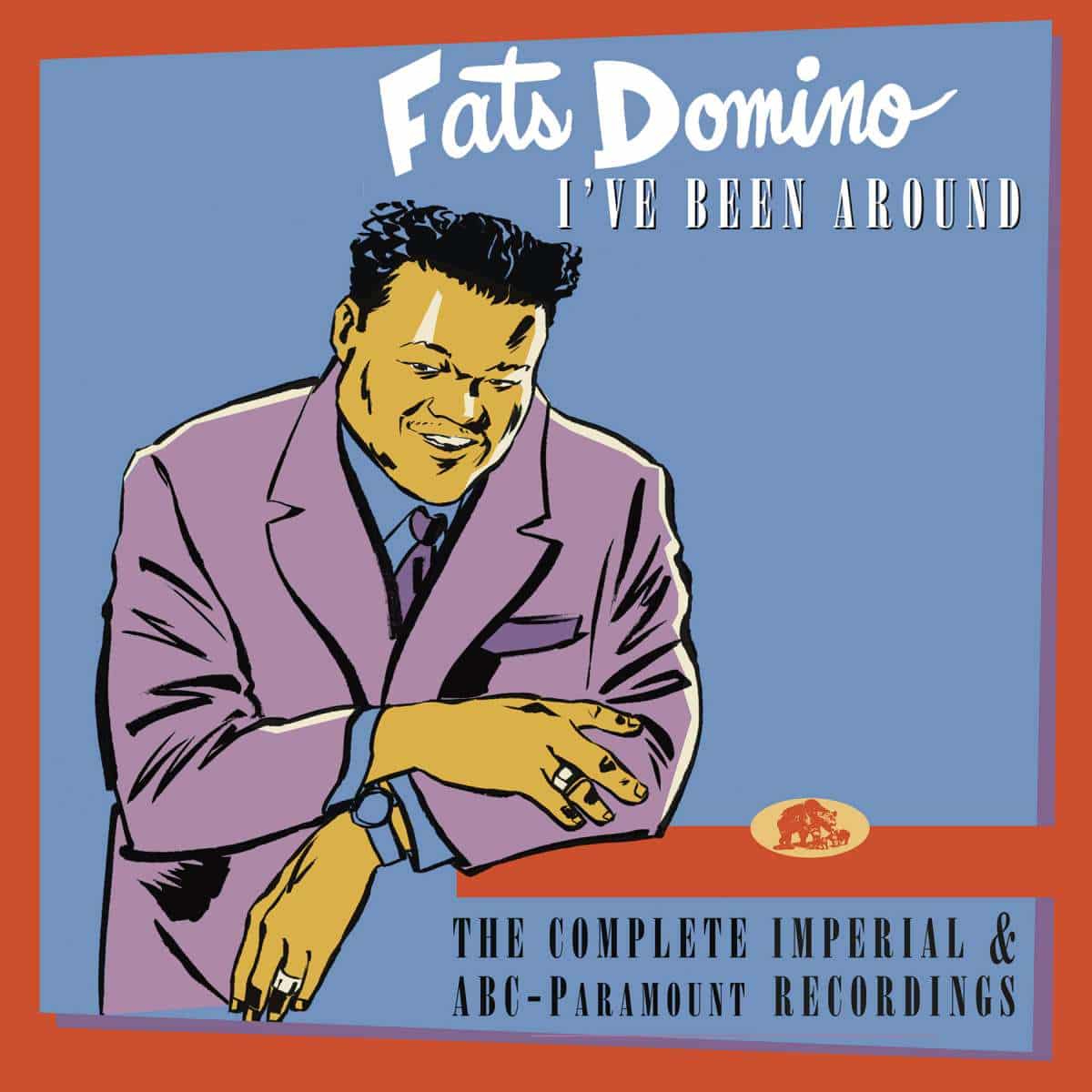 Like the great Louis Armstrong before him, Fats Domino was a perfect ambassador for New Orleans music.
Even at the height of the mid-'50s rock and roll explosion, when Elvis and Chuck Berry were scaring the bejeezus out of parents with their primal rhythms and suggestive stage antics, Fats was a cherubic presence when seated behind a piano with a sweet smile on his face and a fat horn section by his side. No wonder he was one of the era's most prolific and universally accepted hitmakers; with trumpeter/bandleader Dave Bartholomew as his co-writer and producer, Domino unleashed an incredible run of hits on Imperial Records that were irresistible to teenagers and their parents alike. Fats always did the Crescent City proud.
Domino, who died at the age of 89 in his beloved home in Harvey, Jefferson Parrish in New Orleans, Louisiana, at night on the 24th of October 2017, had been ailing in recent years after surviving the wrath of Hurricane Katrina in 2005 (he had to be rescued from his Ninth Ward home, which was utterly devastated). But prior to his hea
lth woes, Fats never stopped rocking like it was 1957 all over again, always fronting a rollicking band soaked in second-line rhythms and jabbing horns. Domino never seemed like he was just going through the motions; whenever he launched into his raucous set closer When The Saints Go Marching In, it was instant Mardi Gras time.
Antoine Domino
Born February 26, 1928 in the Big Easy, Antoine Domino, Jr. was a shy lad of Creole descent who spoke French before he learned English. Influenced by boogie piano specialists Albert Ammons (whose Swanee River Boogie became one of Domino's enduring showpieces), Meade Lux Lewis, and Amos Milburn, Fats was given his nickname by bassist Billy Diamond, whose band he played with at the Hideaway Club beginning in 1946. Domino was making a name in his own right by '49, when he met Bartholomew, who brought Imperial owner Lew Chudd to the Hideaway to check out the promising newcomer. The end result was a record contract that would make immense profits for the label and Domino as it stretched for more than a decade. 

The Fat Man, a cleaned-up adaptation of Champion Jack Dupree's Junker Blues, was Domino's Imperial debut and just missed the top of the R&B hit parade in early 1950. Fats achieved R&B stardom long before rock and roll reared its impudent head, scoring major hits with Every Night About This Time (1950), Goin' Home, Going To The River (both 1952), and Please Don't Leave Me and Something's Wrong (both 1953). Everything changed when Domino released the stop-time rocker Ain't It A Shame in 1955.
Typically a Domino/Bartholomew collaboration, it not only paced the R&B charts but went Top Ten pop despite a Pat Boone cover. Rock and roll was exploding all over, and Fats was one of the rowdy music's first true heroes. Of course, having a crack band at his behest whenever he ventured into Cosimo Matassa's studio in the French Quarter sure didn't hurt. Herbert Hardesty, who was prominently featured with Domino's band for decades, took the lion's share of the sax solos on Domino's hits, with studio stalwart Lee Allen handling the rest.
Domino was a rock and roll superstar
For the rest of the decade, Domino was a rock and roll superstar, thanks to blockbusters that included I'm In Love Again, When My Dreamboat Comes Home, Blueberry Hill (his top seller of all), and Blue Monday in 1956, I'm Walkin' the next year, Whole Lotta Loving in '58, I'm Ready, I Want To Walk You Home, and Be My Guest in '59, and the plaintive Walking To New Orleans and My Girl Josephine at the beginning of the new decade. Domino memorably guested in the rock and roll flicks 'The Girl Can't Help It,' 'Jamboree,' and 'The Big Beat,' headlined countless package shows that barnstormed the U.S. and helped knock down segregation barriers, starred on network TV programs, and remained singularly free of scandal as he loyally doted on his huge family back home when he wasn't on the road.
After an amazing run on Imperial (all of his masters for the label are available on Bear Family's eight-CD boxed set 'Out of New Orleans'), Domino moved over to the ABC-Paramount label in 1963. But by then, the glory years of New Orleans rock and roll were long in the history books. Domino made more platters for Mercury and Reprise, often recording away from his home base, and toured far and wide as the oldies circuit welcomed him with open arms. Eventually Domino decided to retire from the road altogether, limiting his performances to venues that were close to home.
New Orleans was filled with great performers during the '50s, but there was only one Fat Man. Monumentally influential to a generation or two of Louisiana musicians (especially the pioneers of the swamp pop movement), he was the very definition of New Orleans rock and roll—as all the gold records adorning his wall during the pre-Katrina days so eloquently attested.
 --Bill Dahl
Fats Domino Fats Domino - Fats Rocks
Read more at: https://www.bear-family.com/domino-fats-fats-domino-fats-rocks.html
Copyright © Bear Family Records
Read, write and discuss reviews...
more
Customer evaluation for "The Ballads Of Fats Domino (CD)"
From:
Lou From The Bayou
On:
16 Apr 2018
Gran konpilasyon!
The perfect soundtrack for hot and humid Louisiana nights! Having a nice barbecue and cold beers with friends and family and listening to the 'The Fat Man' - Life can be so good!
Write an evaluation
Evaluations will be activated after verification.
Weitere Artikel von Fats Domino
Fats Domino: I've Been Around - The Complete Imperial and...
Art-Nr.: BCD17579


Ready to ship today, delivery time** appr. 1-3 workdays
Fats Domino: Teenageparty with Mr. Domino (LP, 10inch, Ltd.)
Art-Nr.: BAF11013


Ready to ship today, delivery time** appr. 1-3 workdays
Fats Domino: Fats Domino - Fats Rocks (CD)
Art-Nr.: BCD16825


Ready to ship today, delivery time** appr. 1-3 workdays
Fats Domino: If I Get Rich - My Old Time Used To Be (7inch,...
Art-Nr.: 45WB1200


Ready to ship today, delivery time** appr. 1-3 workdays
Fats Domino: Antoine 'Fats' Domino (3-LP)
Art-Nr.: LP2696631-B


Ready to ship today, delivery time** appr. 1-3 workdays