Article successfully added.
$11.26 *
$33.89 *
(66.77% Saved)
* incl. VAT / plus shipping costsDepending on the country of delivery, the VAT at checkout may vary.
Ready to ship today,
delivery time** appr. 1-3 workdays
catalog number:

LP2696631-B

weight in Kg

0.4
(1989/TOMATO) 34 tracks - Recorded live in Galveston and Houston,TX - printed in Holland....
more
Fats Domino: Antoine 'Fats' Domino (3-LP)
(1989/TOMATO) 34 tracks - Recorded live in Galveston and Houston,TX - printed in Holland.
At the mouth of the Mississippi lies what is essentially a cultural isolate within the continental United States: New Orleans, Louisiana. The Crescent City has flourished under French, Spanish, French again, and finally American flags; the latter upon the completion of the Louisiana Purchase in 1803. The French and Spanish connec-tion, as well as geographical proximity, led to strong ties with the people, culture and music of the Caribbean. French and Spanish cultures, of course, are characteristically Catholic, in direct contrast to the mass of Protestant-based America. 
This not only infused Louisiana culture with a religious context that provided for a unique set of musical practices, it also created a fundamentally different relationship between slave and slave master. Protestant slave masters were greatly preoccupied with the "sav-ing of souls." As such, they were intent on stamping out African retentions wher-ever possible. Catholic slave masters, in general, paid little attention to slave activities in non working-hours. Conse-quently, the Afro-American populace in South America, the Caribbean, and the southern part of Louisiana developed much more African-based musics. The fact that the popular music of New Orleans and its surrounding area-whether it be jazz, blues, rhythm and blues, zydeco or swamp pop-is funda-mentally different than any other region of the United States is no accident at all. Antoine "Fats" Domino has been one of the fountainheads of this tradition since 1949. 
That was the year he first recorded backed by Dave Bartholernew's Orchestra for; Lew Chudd's then embry-onic Imperial label. Fats would prove to be the mainstay of Imperial for the suc-ceeding thirteen years. Writing most of his own material in collaboration with trumpeter Bartholemew he managed to rack up fifty-eight r&b chart hits in this period. Even more revelatory is the fact that between 1955 and 1962 he managed to place a total of fifty-nine records on the pop charts, selling a reported sixty-five million records in the U.S. and 140 million worldwide in the process. Allegedly, he sold more records than Elvis Presley in the fifties. Those are pretty telling statistics. So is the fact that in 1986 he was inducted into the Rock 'N' Roll Hall of Fame on that institu-tions' first ever round of balloting. Domino was born February 26, 1928 ANTOINE "FATS" DOMINO.
in New Orleans. One of nine children, his father played violin but his initial interest in playing music occurred when relatives left an old upright piano at the Domino household. His uncle, guitarist Harrison Verrett, taught the youngster the basic rudiments. Gaining facility rather quickly, while in his teens Domino became a piano playing fixture around new Orleans juke joints, playing a mix-ture of blues, boogie woogie and the, then new, sounds of r& b. Nicknamed "Fats" when he was eigh-teen while playing in a jumping combo led by one Billy Diamond, Domino was still working a day job in a mattress factory when he was discovered by locally prominent band leader Dave Bartholemew in December 1949. 
Just weeks before, Bartholemew had met Imperial Records owner Lew Chudd in Houston where Bartholemew's band was playing at Don Robey's club, the Bronze Peacock. Chudd, at that time, was inter-ested in branching out into the rhythm and blues field. Sizing up the trum-peter's stature in New Orleans, he signed Bartholemew to both a recording and tal-ent scout/production contract. It was in the latter capacity that Bartholemew sug-gested that he and Chudd go down to the Hideaway Club where, as he told Jeff Hannusch, he had "heard about this guy 
who was supposed to play pretty good boogie woogie piano." The rest, as they say, is history. Fats was signed to Imperial, and became the featured vocalist with the Bartholemew band. His first outing paired two Domino-Bartholemew originals "Detroit City" and "The Fat Man." The former was the supposed "A" side but it quickly became evident that both DJ's and listeners pre-ferred the rollicking boogie of the latter.
Video von Fats Domino - Antoine 'Fats' Domino (3-LP)
Article properties:

Fats Domino: Antoine 'Fats' Domino (3-LP)
Album titlle:

Antoine 'Fats' Domino (3-LP)

Genre

Rock'n'Roll

Geschwindigkeit

33 U/min

Vinyl record size

LP (12 Inch)

Record Grading

Mint (M)

Artikelart

LP

Sleeve Grading

Fair (F)

EAN:

4000127764232

weight in Kg

0.4
Fats Domino Obituary Like the great Louis Armstrong before him, Fats Domino was a perfect...
more
"Fats Domino"
Fats Domino Obituary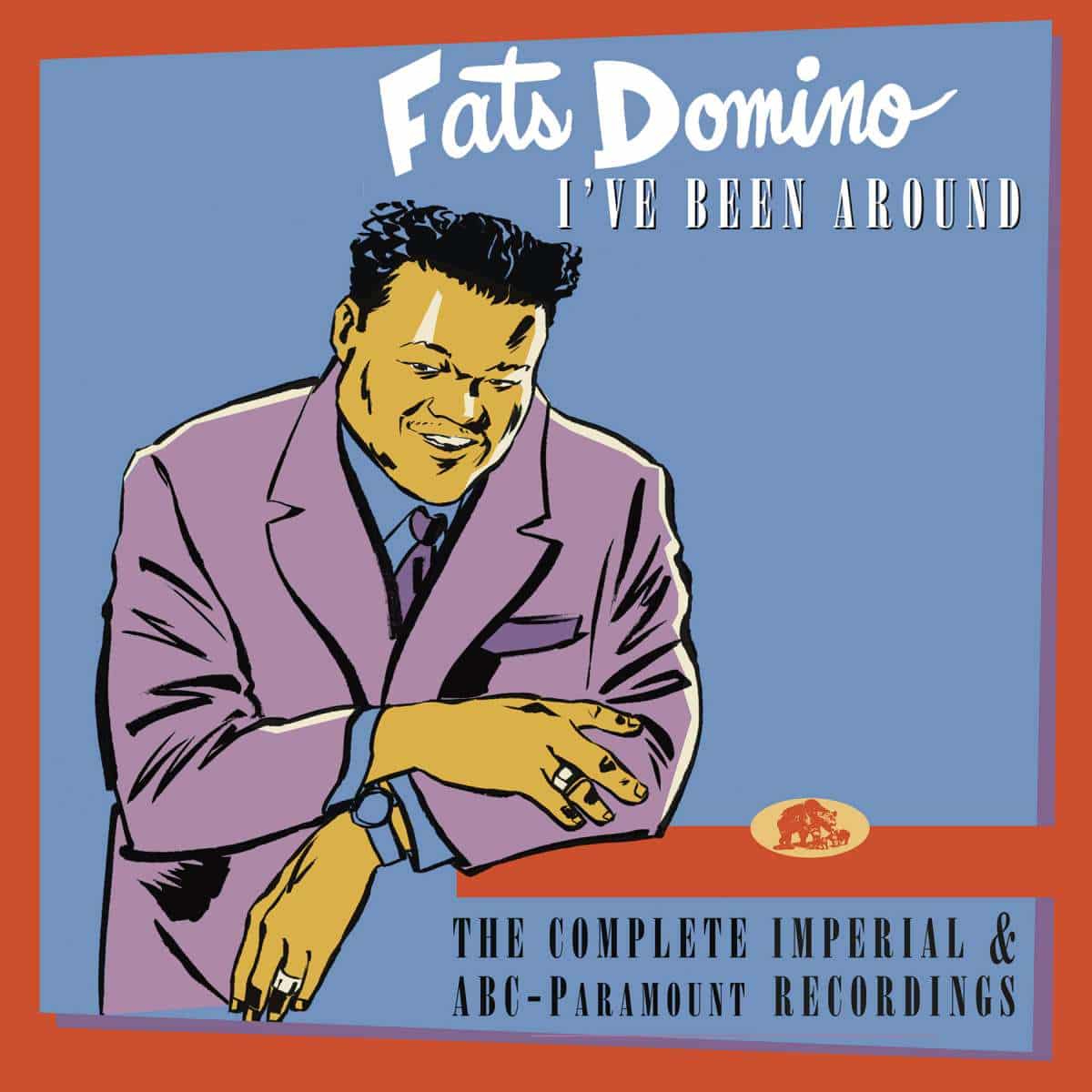 Like the great Louis Armstrong before him, Fats Domino was a perfect ambassador for New Orleans music.
Even at the height of the mid-'50s rock and roll explosion, when Elvis and Chuck Berry were scaring the bejeezus out of parents with their primal rhythms and suggestive stage antics, Fats was a cherubic presence when seated behind a piano with a sweet smile on his face and a fat horn section by his side. No wonder he was one of the era's most prolific and universally accepted hitmakers; with trumpeter/bandleader Dave Bartholomew as his co-writer and producer, Domino unleashed an incredible run of hits on Imperial Records that were irresistible to teenagers and their parents alike. Fats always did the Crescent City proud.
Domino, who died at the age of 89 in his beloved home in Harvey, Jefferson Parrish in New Orleans, Louisiana, at night on the 24th of October 2017, had been ailing in recent years after surviving the wrath of Hurricane Katrina in 2005 (he had to be rescued from his Ninth Ward home, which was utterly devastated). But prior to his hea
lth woes, Fats never stopped rocking like it was 1957 all over again, always fronting a rollicking band soaked in second-line rhythms and jabbing horns. Domino never seemed like he was just going through the motions; whenever he launched into his raucous set closer When The Saints Go Marching In, it was instant Mardi Gras time.
Antoine Domino
Born February 26, 1928 in the Big Easy, Antoine Domino, Jr. was a shy lad of Creole descent who spoke French before he learned English. Influenced by boogie piano specialists Albert Ammons (whose Swanee River Boogie became one of Domino's enduring showpieces), Meade Lux Lewis, and Amos Milburn, Fats was given his nickname by bassist Billy Diamond, whose band he played with at the Hideaway Club beginning in 1946. Domino was making a name in his own right by '49, when he met Bartholomew, who brought Imperial owner Lew Chudd to the Hideaway to check out the promising newcomer. The end result was a record contract that would make immense profits for the label and Domino as it stretched for more than a decade. 

The Fat Man, a cleaned-up adaptation of Champion Jack Dupree's Junker Blues, was Domino's Imperial debut and just missed the top of the R&B hit parade in early 1950. Fats achieved R&B stardom long before rock and roll reared its impudent head, scoring major hits with Every Night About This Time (1950), Goin' Home, Going To The River (both 1952), and Please Don't Leave Me and Something's Wrong (both 1953). Everything changed when Domino released the stop-time rocker Ain't It A Shame in 1955.
Typically a Domino/Bartholomew collaboration, it not only paced the R&B charts but went Top Ten pop despite a Pat Boone cover. Rock and roll was exploding all over, and Fats was one of the rowdy music's first true heroes. Of course, having a crack band at his behest whenever he ventured into Cosimo Matassa's studio in the French Quarter sure didn't hurt. Herbert Hardesty, who was prominently featured with Domino's band for decades, took the lion's share of the sax solos on Domino's hits, with studio stalwart Lee Allen handling the rest.
Domino was a rock and roll superstar
For the rest of the decade, Domino was a rock and roll superstar, thanks to blockbusters that included I'm In Love Again, When My Dreamboat Comes Home, Blueberry Hill (his top seller of all), and Blue Monday in 1956, I'm Walkin' the next year, Whole Lotta Loving in '58, I'm Ready, I Want To Walk You Home, and Be My Guest in '59, and the plaintive Walking To New Orleans and My Girl Josephine at the beginning of the new decade. Domino memorably guested in the rock and roll flicks 'The Girl Can't Help It,' 'Jamboree,' and 'The Big Beat,' headlined countless package shows that barnstormed the U.S. and helped knock down segregation barriers, starred on network TV programs, and remained singularly free of scandal as he loyally doted on his huge family back home when he wasn't on the road.
After an amazing run on Imperial (all of his masters for the label are available on Bear Family's eight-CD boxed set 'Out of New Orleans'), Domino moved over to the ABC-Paramount label in 1963. But by then, the glory years of New Orleans rock and roll were long in the history books. Domino made more platters for Mercury and Reprise, often recording away from his home base, and toured far and wide as the oldies circuit welcomed him with open arms. Eventually Domino decided to retire from the road altogether, limiting his performances to venues that were close to home.
New Orleans was filled with great performers during the '50s, but there was only one Fat Man. Monumentally influential to a generation or two of Louisiana musicians (especially the pioneers of the swamp pop movement), he was the very definition of New Orleans rock and roll—as all the gold records adorning his wall during the pre-Katrina days so eloquently attested.
 --Bill Dahl
Fats Domino Fats Domino - Fats Rocks
Read more at: https://www.bear-family.com/domino-fats-fats-domino-fats-rocks.html
Copyright © Bear Family Records
Read, write and discuss reviews...
more
Customer evaluation for "Antoine 'Fats' Domino (3-LP)"
From:
Jens
On:
13 Sep 2020
Schöner Sampler von FAT.s
Beat family wie immer top.
Das Online stöbern mach immer wieder Spaß.
Lp,s auch immer super sicher verpackt.
Bis zum nächsten Mal.
Write an evaluation
Evaluations will be activated after verification.
Weitere Artikel von Fats Domino
Fats Domino: I've Been Around - The Complete Imperial and...
Art-Nr.: BCD17579


Ready to ship today, delivery time** appr. 1-3 workdays
Fats Domino: Teenageparty with Mr. Domino (LP, 10inch, Ltd.)
Art-Nr.: BAF11013


Ready to ship today, delivery time** appr. 1-3 workdays
Fats Domino: Fats Domino - Fats Rocks (CD)
Art-Nr.: BCD16825


Ready to ship today, delivery time** appr. 1-3 workdays
Fats Domino: The Ballads Of Fats Domino (CD)
Art-Nr.: BCD17530


Ready to ship today, delivery time** appr. 1-3 workdays
Fats Domino: If I Get Rich - My Old Time Used To Be (7inch,...
Art-Nr.: 45WB1200


Ready to ship today, delivery time** appr. 1-3 workdays