Article successfully added.
This article is deleted and can no longer be ordered!
Please inform me as soon as the product is available again.
catalog number:

BCD15593

weight in Kg

0.115
1-CD Album with 20-page booklet, 30 tracks. Playing time approx. 76 mns. By 1966, Carl had been...
more
Carl Perkins: Dollie Masters - Country Boy's Dream
1-CD Album with 20-page booklet, 30 tracks. Playing time approx. 76 mns.
By 1966, Carl had been dropped by Columbia and Decca and was picked up by Dollie Records, a Nashville-based label owned by his music publisher. Reverting to country music, Carl proceeded to make some of the best music of his career, and even scored the hit he had been after for so long, 'Country Boy's Dream'. The 30 tracks here also include
Poor Boy Blues, Detroit City, Dream On Little Dreamer, Sweet Misery
,
Shine Shine Shine, Back To Tennessee, Lake County Cotton Country
, and
Baby I'm Hung Up On You
.
It was a strange, contradictory period in
Carl Perkins
' career. At home, the Americans had just about ensured that a rock 'n' roll singer of Perkins' vintage couldn't even buy airplay, and with that inability to command airplay went a shot at a major label deal. But then, in a swift kick of irony, Perkins was an all-conquering hero in Britain and Europe to those who still put grease in their hair. He toured overseas to an uproarious reception, but was largely confined to playing the pisspots of the mid-South back home. To compound the irony, the Beatles, who had spearheaded the invasion that kept Perkins invisible back home, had recorded three of his songs, the royalties from which gave him more financial security than he had known in years.
Despite his reputation as a rock 'n' roller overseas, Perkins' thoughts were turning increasingly towards the country market. In the early '60s, as the end of his first tenure at Columbia Records came in view, he had started seriously cultivating country airplay, and his domestic releases on Decca continued in much the same vein. The overseas tours gave Perkins the impetus to cut some rock 'n' roll sessions in both England and Nashville, but the lack of success in either the country or pop markets led to him being dropped by Decca in 1965.
Since 1958 Perkins had been signed to Cedarwood Music as a songwriter. The company had been formed in 1953 as a partnership between Jim Denny, the irascible departing manager of the Opry's Artist Service Bureau, and singer
Webb Pierce
. On May 28, 1958 Denny married his office manager, Dollie Dearman, and when he got the idea to start a record company the fol-lowing year he found inspiration for the company name sitting at the front desk during the day and at the kitchen table at night.
The Dollie label was launched in March 1959 with a release by Horace Heller, a performer soon beckoned by anonymity. It's unclear what - if any -activity took place under the Dollie logo between 1959 and 1966 when Perkins signed with the label. The first records were numbered 101 thru 103, by the time Perkins joined the label they had started again at 500, suggesting that there was an hiatus of some years. Undoubtedly one hiccup was the death of Jim Denny in 1963. The business was taken over by his sons, John and Bill Denny, who bought out Webb Pierce soon after they assumed control. When they revived Dollie, they negotiated a distribution pact with Laurie Records, a label not best-known for its penetration in the country market.
One consideration in relaunching Dollie may have been the success that Cedarwood's principal competitor, Acuff-Rose, was finding with their Hick-ory label. Hickory was often no more than a retirement home for artists af-filiated with the Acuff-Rose who couldn't land a deal elsewhere, such as
Roy Acuff
and later
Don Gibson
, but in 1965 they were as hot as they were going to get with the New Beats,
Donovan
,
Bob Luman
and Ernest Ashworth. Even Roy Acuff turned in a hit for them that year. John Denny strenuously denies that what Acuff-Rose were doing had any bearing on what he and his brother did, but that declaration sounds a little hollow.
For Perkins, the end of the Decca contract in 1965 heralded one of the bleakest periods in his life.
After a European tour at the end of 1965, Perkins returned home for Christmas with the conviction that he should give up the music business. He used the royalties from the Beatles recordings to buy a 108 acre fai in near Jackson. He moved his parents there, and worked the farm himself. There is no record of Perkins performing any live gigs for the greater part of 1966. With the memory of Blue Suede
Shoes
now ten years distant, Dollie repre-sented the best Perkins could get when he went label-shopping. It was ob-vious from the first cut that the Dennys were aiming Perkins fair and square at the market sector they understood best: the country market. The move towards country music was doubly necessary because rock music was now a fair distance from anything that Carl Perkins understood as rock 'n' roll.
Video von Carl Perkins - Dollie Masters - Country Boy's Dream
Article properties:

Carl Perkins: Dollie Masters - Country Boy's Dream
Album titlle:

Dollie Masters - Country Boy's Dream

Genre

Rock'n'Roll

Preiscode

AH

Artikelart

CD

EAN:

4000127155931

weight in Kg

0.115
Carl Perkins When Carl Perkins walked into 706 Union Avenue in the Fall of 1954, he was as...
more
"Carl Perkins"
Carl Perkins
When Carl Perkins walked into 706 Union Avenue in the Fall of 1954, he was as country as a haystack. Carl had been hearing Elvis Presley's music on the radio for the past month or so and he knew that Sam Phillips' fledgling Sun label was the source of those sounds.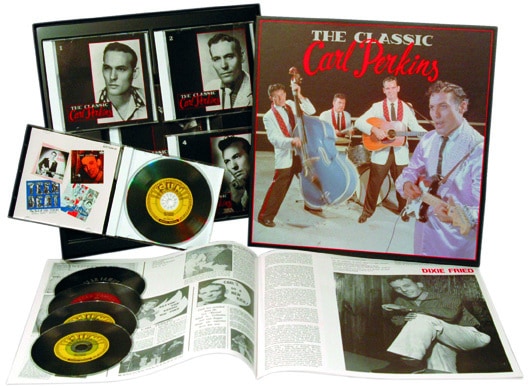 Carl figured that he and his brothers had been making the same kind of hillbilly bop music in the bars back in Jackson, Tennessee for close to a year now. If Presley could record and become famous, why couldn't he? Carl was right about one thing. The roots of the rockabilly revolution that had only recently begun were smouldering beneath the surface in Carl's guitar playing and songwriting. But he was very wrong if he thought his lanky and angular country boy appearance could bring teenage girls all over America to a swoon. Presley was beautiful and sexy and vaguely dangerous looking. Carl was a married man with a balding pate and the start of a serious drinking problem. The latter was fixable, but the first two weren't.
Sun records owner Sam Phillips remembers exactly what he thought the first time he met Carl Perkins. "I looked at him and said to myself, 'There's one of the greatest plowhands in the world.'" Phillips meant it, at least partly, as a compliment. What he saw was a mile-wide expanse of country soul. He hoped that someday he could coax that soul out of Carl in the studio. It took a while, but he was not to be disappointed.
For his part, Carl was proud of the fact that he was independently moving in the same direction as Presley. In fact, Blue Moon Of Kentucky had been part of Carl's repertoire in the Jackson honkytonks well before Sun 209 was released. If nothing else, it meant that Sam would not have to invent rock 'n' roll a second time with Carl Perkins. The man was well on his way to a private musical revolution.
Somewhat against his better judgement, Sam invited Carl and his brothers Clayton and Jay, along with drummer W. S. Holland, into his tiny studio for an audition. He later recalled thinking that he feared breaking the heart of that big old country boy by rejecting him without a hearing. Carl paced nervously as Holland unpacked his drum kit. Phillips did what he could to keep the singer calm, although experience had proven that some tension could be an asset in the studio.
Carl began by running through the band's repertoire which, not surprisingly, consisted of just about everything on the country charts. Bands in the local honkytonks were expected to be human jukeboxes. The audiences knew the tunes and it provided some novelty to hear them live rather than blaring through the smoke and noise on a jukebox. Mostly it was Carl who handled the vocal chores, although his older brother Jay occasionally took over the microphone. It was the band's job to play what local hard working drinkers wanted to hear in 1953 and early '54 – which was just about anything by Lefty Frizzell, Hank Williams, Ernest Tubb and Webb Pierce.
As Carl eagerly ran through his song list, Sam Phillips, one of the world's earliest and most canny record producers, encouraged him to keep going. He knew what he wanted to hear and it wasn't a cover version of a Nashville hit. He couldn't tell Carl exactly what he had in mind, but he knew this wasn't it. Given the budget at the Memphis Recording Service, Phillips sure wasn't going to waste valuable tape on Lovesick Blues or Always Late. The only thing Sam Phillips heard that intrigued him that first day was a song called Turn Around. Phillips liked two things about it. It provided a showcase for Carl's soulful voice, and – more importantly – it was an original. Because Carl had written it, Phillips could publish it. That meant retaining a few all-important extra pennies on the sale of every record. Original compositions were not only a way to avoid paying money out, they were also an investment in the future. If any of these songs actually became a hit, Phillips (and Carl) would make some money on airplays. And, better yet, maybe somebody else would have to pay Sam for the right to make his own record of Carl's song.
The audition went well enough for Sam Phillips to invite the band back,
a gesture that meant the world to Carl, and fired his enthusiasm. "Keep writing," he told Carl. "There's no sense recording other folks' music. Let's hear what you can do. Bring me some more songs you've written." It didn't take much prodding to engage the songwriter in Carl. The honkytonks gave him no real incentive to create his own music. Dancers and revellers simply wanted to hear what they knew. They tolerated rather than encouraged Carl's originality. Now, Carl was faced with a famous record producer – the man who had discovered Elvis Presley – asking him to write his own music so that just maybe it might appear on one of those yellow Sun records.
 Sam Phillips decided to place Carl with his two resident country producers: Quinton Claunch and Bill Cantrell. This freed Phillips up to get on with other business in his hectic life and assured that someone would be responsible for shepherding this raw young singer into a level of competence that might be worth recording. It also indicated that, at this point, Phillips saw Carl Perkins primarily as a country artist. Presley notwithstanding, Sun was still a country label. Phillips was weaning himself away from the blues artists he had begun with in favor of the hillbillies. Nobody could be sure that this Presley thing would last, or that there were more Presleys out there. And so Carl Perkins went to work on his first single record.
 taken out of  Carl Perkins BCD16752
The group practiced throughout the Fall and on into the early winter of 1954, Carl eagerly making the drive west from Jackson to Memphis, hoping each time that they'd finally nail a usable take. On January 22, 1955 they hit paydirt. The 'hillbilly weeper' Turn Around was committed to tape along with a usable version of another song Carl had written called Movie Magg. The pairing of a dirge with an uptempo rhythm number was a good way for Phillips to hedge his bets. Movie Magg was a clever song. Its title was a pun on a very popular form of mass market entertainment – a movie magazine – that housewives and teenage girls gobbled up each month to read about their favorite stars and heartthrobs. The 'Magg' in Perkins' song was short for Maggie – a girl he could only see on Saturday night when he took her to the movies or, in Carl's very rural lyric, a 'picture show.' The song talked about "Breaking new ground the whole week long" and "polishing up his old horse Beck." They were wonderful images, but they made it clear that Carl was singing to a very different audience than Chuck Berry was setting his sights on. The entire proceedings were certifiably country, although on Movie Magg there are rudimentary indications that Carl was capable of taking the whole thing up to another level. Sam Phillips heard it too but, for now, he was willing to watch and wait.
Read, write and discuss reviews...
more
Customer evaluation for "Dollie Masters - Country Boy's Dream"
Write an evaluation
Evaluations will be activated after verification.
Weitere Artikel von Carl Perkins
Carl Perkins: Carl Perkins - Carl Rocks
Art-Nr.: BCD16752


Ready to ship today, delivery time** appr. 1-3 workdays
Carl Perkins: Back On Top (4-CD Deluxe Box Set)
Art-Nr.: BCD16422


Ready to ship today, delivery time** appr. 1-3 workdays
Carl Perkins: The Classic Carl Perkins (5-CD Deluxe Box Set)
Art-Nr.: BCD15494

Carl Perkins & Friends: Carl Perkins & Friends: Blue Suede Shoes - A...
Art-Nr.: LPSMA1032

Carl Perkins: Honky Tonk Gal - Rare And Unissued Sun Masters...
Art-Nr.: CDROUSS27-C


Ready to ship today, delivery time** appr. 1-3 workdays