Who was/is

Rex Allen

? - CDs, Vinyl LPs, DVD and more

Rex Allen was born Rex Elvie Allen on December 31, 1924 in Willcox, died on December 17, 1999 in Tuscon, AZ.

Record Labels: Decca, Mercury, Disneyland, Buena Vista, Warner Brothers, Bear Family Records.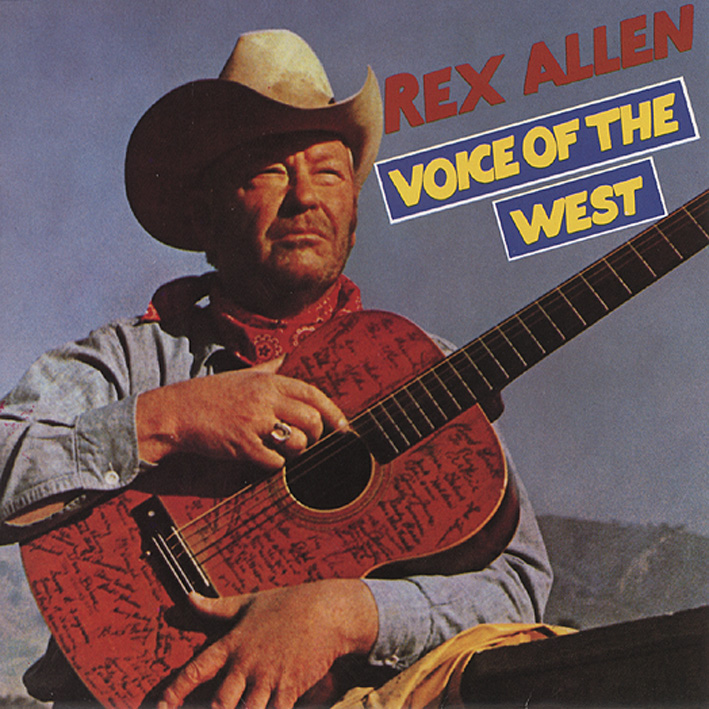 First top ten hit: Crying In The Chapel (1953 - covered from The Orioles' original - see Bear Family BCD15682! - later of Elvis Presley fame). Biggest hit: Don't Go Near The Indians (1962).
Rex Allen - 'The Arizona Cowboy' started at age 11 to play guitar. He received his first musical impressions through his cousin's band, Cactus Mack & His Boys, and became a member of The Sleepy Hollow Gang at WLS Barndance in Chicago, IL. 1948 saw him signing a contract with the film company Republic and he became an actor, famous as The Singing Cowboy". The movie 'The Arizona Cowboy"' was his first success on screen and another 22 movies with Rex Allen followed.
Several roles in TV series followed as well. His most famous role on television was 'The "Frontier Doctor'" broadcasted on both sides of the Atlantic. Besides the movie business he recorded plenty of songs and issued 45rpm singles and albums for several record companies. Meanwhile his son, Rex Allen, Jr., also built up a career in Country music. Rex Allen died shortly before his 79th birthday. He was honored with a star on the Hollywood Walk Of Fame.
MM/Bear Family Records
catalog number: BCD15284

Read more at: https://www.bear-family.com/allen-rex-voice-of-the-west.html
Copyright © Bear Family Records
More information about

Rex Allen

on

Wikipedia.org