Article successfully added.
This article is deleted and can no longer be ordered!
Please inform me as soon as the product is available again.
catalog number:

CDKR975001

weight in Kg

0.1
LEWIS, Jerry Lee: Old Time Rock'n'Roll (CD)
(KR) 24 tracks
Article properties:

LEWIS, Jerry Lee: Old Time Rock'n'Roll (CD)
Album titlle:

Old Time Rock'n'Roll (CD)

Genre

Rock'n'Roll

Label

CD

Artikelart

CD

EAN:

4000127756190

weight in Kg

0.1
Jerry Lee Lewis Jerry Lee Lewis - Obituary  The Pumping Piano Man will rock the...
more
"LEWIS, Jerry Lee"
Jerry Lee Lewis
Jerry Lee Lewis - Obituary 
The Pumping Piano Man will rock the house no more.
Jerry Lee Lewis, whose youthful wildhair ways defined rock and roll as indelibly as his leering, lascivious vocals and thundering skills on the 88s, died October 28, 2022 at the age of 87. Against all odds, he was one of the last legends standing from the days when Sam Phillips built an astonishing talent roster for his Sun Records. When Lewis appeared on his doorstep in 1956, determined to show the folks in charge precisely what he could do to a defenseless piano, the Memphis label had already bid adieu to Elvis and was riding high thanks to Carl Perkins, Roy Orbison, Johnny Cash, and a posse of other raucous rockabillies. 
Still, Jerry Lee would captivate Sam—and the world--like no other, despite suffering monumental damage from a 1958 scandal involving his precocious child bride (who also happened to be his cousin) that would have ended any other performer's career permanently. Jerry Lee, like Old Man River, just kept on rolling along, regenerating his popularity first with the rock and roll crowd and then veering into the country field with tremendous success. Long after he achieved senior citizen status (who would have ever foreseen that happening to the hard-living Lewis?), the Killer insisted on rocking as hard as his health would allow.
Born September 29, 1935 in Ferriday, Louisiana, Lewis grew up with a pair of piano-playing cousins, Mickey Gilley (who followed in Jerry Lee's rocking footsteps) and future evangelist Jimmy Swaggart. Lewis cited country greats Jimmie Rodgers and Hank Williams as primary influences, along with a little bit of Al Jolson and some of the sweaty blues that he snuck into hear at Haney's Big House, Ferriday's top black juke joint. He mostly refused to admit to any pianists as role models, although his 88s-playing cousin Carl McVoy impressed him. So did sightless piano wizard Paul Whitehead when the two played together in Natchez circa 1952. A brief stint at a Texas bible college ended when Jerry Lee transformed My God Is Real into a heathenous boogie, but gospel music always remained close to his heart. 
Lewis honed his act in clubs from Natchez to Nashville prior to the auspicious trip to Memphis that landed Lewis his audition with Sun producer Jack Clement. Jack was impressed, and before long he rolled tape when Jerry Lee launched into his hot-rodded treatment of Ray Price's recent country hit Crazy Arms. Sun pressed it up, and Lewis was on the musical map. Phillips knew he'd found someone truly special, and let tape roll whenever Jerry Lee found his way to 706 Union Avenue to pump Phillips' studio piano. One of the many disparate songs Lewis waxed for Sun was the rip-roaring Whole Lot Of Shakin' Going On, already waxed elsewhere by fellow piano man Roy Hall and mountainous blues belter Big Maybelle. Jerry Lee tightened up his rafter-rattling version during a long night at the Twin Gables in Blytheville, Arkansas. Then he cut it for Sun with guitarist Roland Janes, drummer J.M. Van Eaton, and Jerry Lee's cousin, J.W. Brown, on electric bass.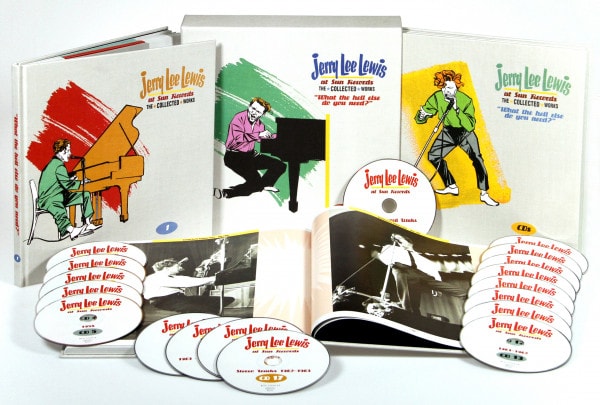 Issued as his encore single, Whole Lot Of Shakin' was an across-the-board juggernaut during the summer of 1957. Lewis was suddenly starring on network television, headlining star-studded package shows, and raising hell wherever he went, playing pianos with his feet, kicking their benches, standing atop them and tearing them apart with the sheer ferocity of his performances. Things escalated to a fever pitch with his next Sun single, the flammable Otis Blackwell-penned smash Great Balls Of Fire. Lewis went right back to Blackwell for Breathless, another major hit. High School Confidential, the title song to the movie of the same name (in which Lewis memorably appeared on a flatbed truck under the opening credits), was on its way to similar blockbuster status when news hit of his betrothal to his 13-year-old cousin Myra Gail, bassist Brown's daughter. Jerry Lee was instantly toxic, his career in tatters. 
Slowly but surely, he came back. Sam never gave up on him, continuing to issue a stream of Lewis platters until Jerry exited the fading label in 1963 to sign with Mercury's Smash subsidiary. At first, Jerry Lee continued relentlessly rocking, but in '68 he switched to country music and proved every bit as sensational as he was a decade earlier in the rock arena, posting an avalanche of hits and completing his comeback. Lewis would alternate between rock and country in decades to come, ferociously stoking his own outsized legend with seven wives, a 1989 movie based rather loosely on his life, and enough insane antics both offstage and on to fill the pages of several highly entertaining biographies. Bear Family has compiled a series of lavish boxed sets over the years covering much of the Killer's amazing career.
No pianist ever rocked a boogie-woogie with more single-minded panache than the Killer. He was truly one of a kind.       --Bill Dahl
Read, write and discuss reviews...
more
Customer evaluation for "Old Time Rock'n'Roll (CD)"
Write an evaluation
Evaluations will be activated after verification.
Weitere Artikel von LEWIS, Jerry Lee
Jerry Lee Lewis: Live At The Star-Club Hamburg (LP, 180g Vinyl)
Art-Nr.: BAF18006


Ready to ship today, delivery time** appr. 1-3 workdays
Jerry Lee Lewis: Jerry Lee Lewis And His Pumping Piano (LP,...
Art-Nr.: BAF11008


Ready to ship today, delivery time** appr. 1-3 workdays
Jerry Lee Lewis: Jerry Lee Lewis At Sun Records The Collected...
Art-Nr.: BCD17254


Ready to ship today, delivery time** appr. 1-3 workdays
Jerry Lee Lewis: Jerry Lee Lewis - The Killer Vol.1 1963-68 by...
Art-Nr.: BFB10004


Ready to ship today, delivery time** appr. 1-3 workdays
Jerry Lee Lewis: Live At The Star Club Hamburg (CD)
Art-Nr.: BCD15467


Ready to ship today, delivery time** appr. 1-3 workdays
Jerry Lee Lewis: Jerry Lee Lewis - Jerry Rocks (CD)
Art-Nr.: BCD16396


Ready to ship today, delivery time** appr. 1-3 workdays