Article successfully added.
This article is deleted and can no longer be ordered!
Please inform me as soon as the product is available again.
catalog number:

LPSEP10174

weight in Kg

0.18
(Sundazed) 8 tracks 'Genius' is a noun that should be used sparingly, but Charlie Feathers was...
more
Charlie Feathers: Charlie Feathers - The King Singles (LP, 10inch)
(Sundazed) 8 tracks
'Genius' is a noun that should be used sparingly, but
Charlie Feathers
was a genius. From hillbilly music, bluegrass, gospel, and blues he alchemized a new art form: rockabilly. He followed in no one's footsteps.
After two shimmering hillbilly singles on Sun and a holy grail rockabilly single on Meteor, Feathers signed with King Records in
July
1956. Producer Louis Innis brought Feathers and his group to Cincinnati for the first session. Guitarist Jerry Huffman, bassist Jody Chastain and drummer Jimmy Swords made the trip. 'One Hand Loose' was rockabilly celebrat-ing its liberating zeal. The words, as was often the case with Feathers, flitted around internal coordinates that made sense to him alone.
Charlie
studded his music with hiccups and glottal shrieks. 'He was prone to do overdo that,' said Huffman, 'but [Innis] was just fascinated by it and encouraged Charlie to overdo it on 'Can't Hardly Stand It' so much that Charlie almost sounded drunk. I think they had 'Be-Bop-a-Lula' in mind.'
In January 1957, Innis brought Charlie Feathers to RCA's Nashville studio and hired a vocal group, reportedly Johnny Bragg and some former Prisonaires, to flesh out the sound. 'Too Much Alike' and 'When You Decide' surely stood a shot in the early months of 1957. Sometimes all the right factors go into an equation only to produce the wrong answer. If Chet Atkins, who ran the studio, had stuck his head in the door, he would or should have recognized that those songs were hits—if not for Feathers then for someone on RCA.
In place of success, Charlie Feathers led a small, dedicated cult, mostly overseas, to whom his records were totemic. Now as rockabilly's original practitioners slip gently into the good night, it's clear that Charlie Feathers' King recordings are among the music's iridescent high watermarks. 
Colin Escott
Article properties:

Charlie Feathers: Charlie Feathers - The King Singles (LP, 10inch)
Album titlle:

Charlie Feathers - The King Singles (LP, 10inch)

Genre

Rock'n'Roll

Geschwindigkeit

33 U/min

Record Grading

Mint (M)

Sleeve Grading

Mint (M)

Vinyl record size

LP (10 inch)

Artikelart

LP

EAN:

0090771017413

weight in Kg

0.18
CHARLIE FEATHERS First released by Zu-Zazz Records in 1990, 'Rock-a-Billy' is the...
more
"Charlie Feathers"
CHARLIE FEATHERS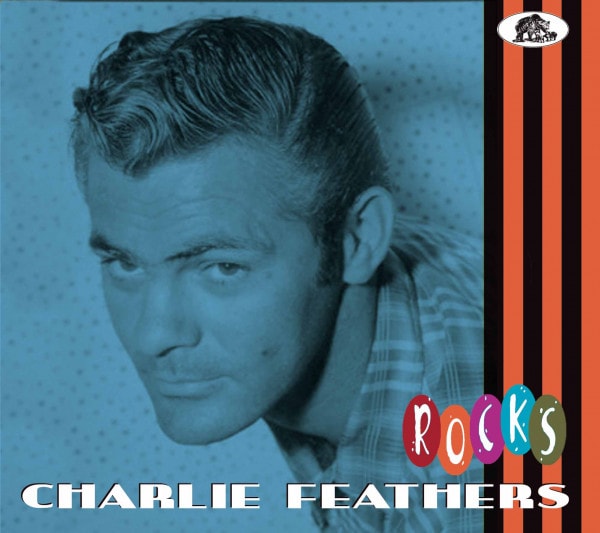 First released by Zu-Zazz Records in 1990, 'Rock-a-Billy' is the definitive collection of Charlie Feathers at his greatest. Here are recordings from the legendary Sun studio, such as Corrine Corrina, Bottle To The Baby, Frankie & Johnny, and Honky Tonk Kind. Here are King rehearsal tapes, plus fabulously rare singles that first appeared on small labels like Wal-May and Kay, and previously unissued Sixties rockabilly recordings from the Sun and Select-o-Hit studios.
Charlie's ever-broadening reputation before and after his death has given a wide audience a chance to know what the few have always known: Charlie Feathers was a giant of American music. This is the definitive edition of his early work, culled from Sun and non-Sun masters cut between 1954 and 1974. Here are the original versions of One Hand Loose, South Of Chicago, Wedding Gown Of White, Dinky John.Peter Guralnick wrote the liner notes.
All are in first generation sound quality! When Charlie Feathers died on August 29, 1998, American music lost a true original. 
CHARLIE FEATHERS
It is a typical Saturday night at every Hilltop Lounge on the not-too-respectable out-skirts of any town. Beaten-down men and women cling to each other; factory girls in tight white hiphuggers do the bump; skinny bald-headed old men in overalls jitterbug decorously with stout middle-aged women in sequined glasses; strangers huddle to-gether against the cold. In this particular Hilltop Lounge on Memphis's Lamar Avenue — not far from the old Eagle's Nest, where Elvis Presley first started out — the featured performer takes it all in with a mixture of good humor and genial contempt.

Although he doesn't sing much, he is constantly involved in the performance, jumping up, grab-bing for a mike, fiddling with the dials of the Peavey PA system, throwing in a bass harmony from the rickety table where he sits beside the darkened bandstand, ceaselessly expounding upon his theories of music, his plans for the future, his un-ending quest for the breakthrough hit record. He wears an open-necked white shirt, houndstooth coat, and his white hair is slicked back in an impeccable DA. Once in a while he will strap on his guitar and do a song or two himself, and then it is as if the room is transformed with his energy, carried away by the irrepressible squeals, in-spired asides, and manic enthusiasm of the singer. Everyone is having a good time, and only the the featured performer with his restless commentary, abrupt shifts of mood, and feverish memories of the past, seems to be thinking of anything but a Tennessee Saturday night. The featured performer is Charlie Feathers, sometime ambulance driver, stock car racer, semi-pro ballplayer, shuffleboard hustler, and rockabilly legend.

Charlie Feathers never achieved celebrity or fame, and his role at Sun remains somewhat unclear, but everyone agrees that he was present from the beginning, and that he made several of the most influential, if not popular, early rockabilly recordings. According to Charlie, he also taught Elvis his style, gave Jerry Lee Lewis the idea for his 'pumping piano', and was generally Sam Phillips's right-hand man in the development of the whole rockabilly sound. All of which sounds distinctly improbable, except that throughout our conversa-tion Charlie Feathers constantly reinforces his points with musical illustrations, de-tailed stylistic references, and specific examples from a tape library which he says even includes a session he cut on Elvis at a West Helena radio station in 1955. "Some tough goddamn stuff, baby," he says matter-of-factly with a certain glumness that seems at odds with the brash nature of his claims.

That's the way it is with Charlie Feathers, though, a proud, suspicious, stubborn, and single-minded man who becomes passionate only when he is talking about music. On that subject he is gener-ous in his enthusiasms, passionate in his likes and dislikes, and fatalistic about his chances of ever setting the record straight.

It seems incongruous somehow to be discussing so casually a past that is lit-tered with the promise of greatness, a past peopled with figures who have gone on to acquire the status of legend. With anyone else it might well sound like empty boasting, but Charlie carries it off with a tone more accepting than bitter, and even one's natural skepticism is to some extent overcome by his mastery of names, dates, technical details, and all the minute particulars of the tangled history of an era. Charlie Feathers was born in Holly Springs, Mississippi - actually in the country out from Holly Springs around Slayden and Hudsonville - on June 12, 1932. He grew up working the land his parents tenant-farmed, but his sharpest memories are of music. He sang in church, listened to the Grand Ole Opry, and snuck around to the Rossville Colored Picnic, out in the woods just across the road from his family's home. He learned guitar from a local black sharecropper named Junior Kimbrough, "the greatest blues singer in the world.

Chuck Berry had nothing on him. I had him teach my son how to play, and what little I learned I got from him, too. To be honest with you, I never did do a whole lot of country. And Bill Monroe, he used to come through Hudsonville, set up tents and all, man I thought it was the greatest thing I ever heard. Well, you see, I loved bluegrass all my life, but I never did know how to play it. There wasn't nobody around who could play that type of music, only colored artists thumping on their guitars. Oh man, there wasn't anything to beat it. Them colored get out there on the weekend, they get together anywhere there was a guitar, just tune that guitar way down and whomp on it. Sam, he always said I was a blues singer, but I was really singing bluegrass and rapping on the guitar like I heard them colored artists do. Bluegrass rock, that's what it really was. Bill Monroe music and colored artists' music is what caused rock 'n' roll." At sixteen or seventeen, he left home to work on an oil pipeline with his father. He worked around Cairo, Illinois, and then in Texas, taking his guitar with him and playing the saloons and joints at night.

After a couple of years he moved back to Memphis and got married, driving a truck, working in a box factory, always fascinat-ed by music. Charlie claims to have started hanging around Sam Phillips' studio almost from the moment it first opened in 1950, and remembers the great blues singers that Phillips was recording then as a nameless procession of colored artists who creat-ed a powerful, exciting music and received little or no pay for it. He also recalls Elvis Presley as a teenager hanging out at Suzore No. 2 movie theater. In his recollec-tion, Elvis was just a kid who started to drop by the Sun studio long after Charlie Feathers had established himself there. Charlie insists he did the arrangement on 'Blue Moon of Kentucky', working with Scotty Moore and Bill Black (a recollection not shared by Moore). He was ready to jump into the new style, but, he says, he never got the opportunity. "I was stuck doing country," says Charlie by way of explanation. After two singles on Sun and Flip, a Sun subsidiary, he came to Sam Phillips in 1956 with 'Tongue Tied Jill'. Phillips turned him down, and Charlie went to Les Bihari's Meteor label, where he had a fair-sized local hit with the song. "It would have been number one," he says, "if we'd cut it at Sun." It did serve to introduce him to a larger audience, though, and impressed the local representative of King from BCD16309
copyright Bear Family Records


Charlie Feathers Rock-A-Billy, Definitive Collection 1954-1973
Read more at: https://www.bear-family.com/feathers-charlie-rock-a-billy-definitive-collection-1954-1973.html
Copyright © Bear Family Records
Read, write and discuss reviews...
more
Customer evaluation for "Charlie Feathers - The King Singles (LP, 10inch)"
From:
Mick_64
On:
30 Dec 2018
Real cool Rockabilly
Real cool rockabilly stuff. Highly recommended.
From:
Nobody's Woman
On:
17 Jul 2015
Can't Hardly Stand It
amazing nice pressing and artwork
Write an evaluation
Evaluations will be activated after verification.
Weitere Artikel von Charlie Feathers
Charlie Feathers: Charlie Feathers - Rocks (CD)
Art-Nr.: BCD17688


Ready to ship today, delivery time** appr. 1-3 workdays
Charlie Feathers: Jungle Fever (LP)
Art-Nr.: LPKAY5045


only 2x still available
Ready to ship today, delivery time** appr. 1-3 workdays
Charlie Feathers: Rock-A-Billy, Definitive Collection 1954-1973 (CD)
Art-Nr.: BCD16309


Ready to ship today, delivery time** appr. 1-3 workdays
Charlie Feathers: One Hand Loose - Bottle To The Baby (7inch, 45rpm)
Art-Nr.: 45REP06008


Ready to ship today, delivery time** appr. 1-3 workdays
Charlie Feathers: Why Don't You...Get With It (2-LP, colored Vinyl)
Art-Nr.: LPBE152


Ready to ship today, delivery time** appr. 1-3 workdays