Article successfully added.
$15.79 *
$18.05 *
(12.52% Saved)
* incl. VAT / plus shipping costsDepending on the country of delivery, the VAT at checkout may vary.
Ready to ship today,
delivery time** appr. 1-3 workdays
catalog number:

BCD16381

weight in Kg

0.115
1-CD with 32-page booklet, 31 tracks. Playing time approx. 78 mns. Fabor Robison had...
more
DE CASTRO SISTERS: Teach Me Tonight (CD)
1-CD with 32-page booklet, 31 tracks. Playing time approx. 78 mns.
Fabor Robison had achieved regional success with hillbilly records by acts including
Jim Reeves
, the Browns and
Johnny Horton
. So who could have predicted his signing of three singing siblings from Havana, who had idolized the
Andrews Sisters
? But when Fabor Robison spotted Peggy, Cherie and Babette deCastro performing at the fashionable Moulin Rouge night club in Hollywood, he signed them almost immediately. 
Teaming them with arranger Skip Martin - an alumnus of
Les Brown
's band who had become a successful music director for major film studios. Fabor Robison hit with the deCastro Sisters' first single:
Teach Me Tonight
. This collection by the group includes everything that Abbott recorded by the trio, plus all of their RCA sides - released and previously unreleased - save for a Christmas single. The extensive liner notes include new interviews with Peggy and Cherie de Castro, detailing their remarkable journey from a Cuban sugar plantation to the stages of Hollywood, New York and Las Vegas.
Article properties:

DE CASTRO SISTERS: Teach Me Tonight (CD)
Album titlle:

Teach Me Tonight (CD)

Preiscode

AH

Genre

Pop

Artikelart

CD

EAN:

4000127163813

weight in Kg

0.115
The DeCastro Sisters Teach Me Tonight The DeCastro Sisters Story T he music business has...
more
"DE CASTRO SISTERS"
The DeCastro Sisters
Teach Me Tonight
The DeCastro Sisters Story
T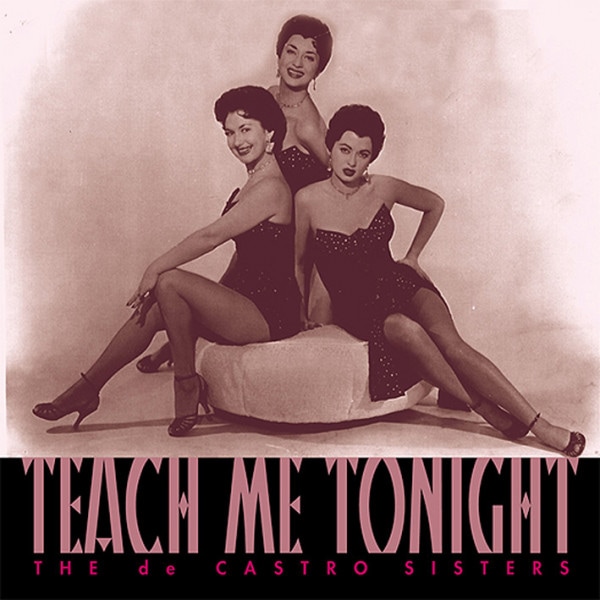 he music business has produced a number of successful sister teams, from the Boswells to the Andrews, McGuires, Lennons, De Johns...the list grows on. Fondly remembered by their fans, though somewhat lost in the drifts of time, are the DeCastro Sisters -- Peggy, Cherie and Babette. The DeCastro Sisters are worth remembering, and not just because they made some fine music and were the first to popularize one of popular music's most enduring standards.
Most popular in the '50s, the DeCastros began a decade earlier as a Latin act; virtually dropped the Latin aspect when they became the only pop act signed to the otherwise hillbilly-oriented Abbott label; did not record cover versions of recent black or country hits for the pop market, preferring to draw largely from their circle of friends and professional associates; and are still active today. It's a terrific story, much of which can only be outlined in this space.
So, let's begin.
Juan Fernandez DeCastro was the son of a wealthy Cuban aristocrat, whose family fortune -- which increased under his charge -- came largely from their sugar plantation in the Dominican Republic. His first marriage was unsuccessful, but on a trip to New York City, Juan met Babette Buchanan, an 18-year-old showgirl in the Ziegfeld Follies who had been dating the actor, Conrad Nagel. Juan bought out Babette's contract with Ziegfeld, and -- ever the gentleman -- invited her and her sister to join him in Santo Domingo. Don Juan and Babette's marriage was a social highlight of the season.
Their first daughter, born June 24, 1921, was christened Margarita Dolores, nicknamed 'Peggy' by her mother. Don Juan and Babette agreed that their second child would be born in the United States, so Juan leased a large apartment in New York City's prominent Dakota building. The second daughter (who prefers not to reveal her birthdate), was named Cherie Dawn. The third daughter, Babette, was born on May 4, 1925 in Cuba; their parents had relocated to a home in Punta Gorda.
The girls grew up in a luxurious atmosphere; each with her own nanny, and sharing a stern German governess and special tutors -- all this in addition to the family's retinue of chauffeurs, gardeners, maids, cooks and butler. Prominent enough to be featured in a 'Life' magazine advertisement promoting White Owl cigars ("The rich taste of your cigar is as much a part of Havana as Morro Castle") in the early '40s, Don Juan was later involved in constructing what was to be a canal across Cuba, a project that was aborted by the 1959 revolution.
The girls were raised bilingual, explains Cherie. "Our mother was born in Chicago, and spoke no Spanish; she'd only speak to the Jamaican servants and others who spoke English. Our father was educated in Switzerland, and spoke perfect English as well as French and Italian -- he spoke to us only in Spanish."
By the early '40s, the girls were singing and dancing -- not only was their mother a show business veteran, their father played several instruments. "My mother had started taking opera lessons in Havana," recalls Cherie, "and we imitated all the arias she did. Later, we worked seriously with a Russian teacher in a ballet academy. Then, as teenagers, we first heard the Andrews Sisters. A young man suggested that if we sang, he'd be our manager. He was only seventeen, but he booked us in theaters and for other events. Buy he couldn't always count on us -- sometimes we wouldn't show up -- so he dropped us. It took our father to make us take show business seriously."
The DeCastros began to emulate their new American idols, with limited success."We thought we were the Andrews Sisters,"Cherie continues,"but we weren't on pitch. Our father said we embarrassed him when we'd sing for his friends, so he got us a singing teacher."
Their first public appearance was at the Hotel Nacional in Havana, at a party held by the American embassy to commemorate the Washington's Birthday holiday. Don Juan, the sisters admit, bribed the entertainment chairman to book the untried, unknown youngsters. "We came out, holding American flags and singing the National Anthem," recalls Cherie. "We arrived in a limousine, and pretended that we were American and didn't even speak Spanish -- and they fell for it. They called us 'The Americanitas,' which means 'The Little American Girls'." They began to appear throughout Cuba, thanks in great part to their father's connections in the broadcasting industry; they called themselves The Marvel Sisters, so that the audiences would continue to believe they were American.
Miami to Hollywood
While appearing at a Havana night club, the Montmartre, they were seen by a "young, good-looking man" named Fidel Castro (who, it's said, was especially attracted to Peggy), and the owner of a Miami club, the Clover Club, who hired them to perform for a month. There, they were seen by a New York-based agent. The trio -- who had been calling themselves the Fernando DeCastro Sisters -- had lopped off the first part of their name in Miami, Cherie explains,"Because the owner thought our full name took up too much space on the marquee.
"In Miami, our act was -- believe me -- so bad that we were like the(comic trio)Ritz Brothers," says Peggy. "We used to bump into each other when we turned around. We were so bad that the paper wrote us up as a comedy act. Harry Kilby, the agent, thought it was all rehearsed."
DeCastro SISTERS Teach Me Tonight
Read more at: https://www.bear-family.com/de-castro-sisters-teach-me-tonight.html
Copyright © Bear Family Records
Read, write and discuss reviews...
more
Customer evaluation for "Teach Me Tonight (CD)"
Write an evaluation
Evaluations will be activated after verification.